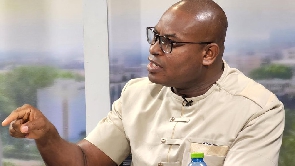 Richard Ahiagbah, the director of communication of the ruling New Patriotic Party (NPP), has refuted reports in the media that President Nana Addo Dankwa Akufo-Addo said Ghana will be returning to the international financial market to borrow.
According to Ahiagbah, Akufo-Addo never made such a statement during the panel discussion at the 2023 Qatar-Africa Economic Forum in Doha, on Wednesday, May 24, 2023.

In a tweet shared on Thursday, May 25, 2023, the NPP communication director said that the president's statement is being misinterpreted.

"President Akufo-Addo did not say Ghana will go to the capital market soon. Interpretations of what the President said must not be construed as his," parts of his tweet read.

The tweet had a video of the remarks of Akufo-Addo made on Ghana's return to the capital market.

What Akufo-Addo said:

The president said the recent approval of the $3 billion loan facility by the International Monetary Fund and the successful implementation of the programme's initiatives will put Ghana in the position to re-enter the international capital markets which had been closed to the country.
"We believe that it (the $3 billion bailout) ... will position us to be able to go back into the international capital market which had been a source of funding for us for the first three or four years of our government.

"There is no rush but obviously why not take advantage of global savings, it makes a lot of sense to me. We will try as much as possible to maintain the discipline which is required and the most important requisite for a successful programme," President Akufo-Addo said.

View Ahiagbah's tweet plus a video of Akufo-Addo's comment below:


President Akufo-Addo did not say Ghana will go to the capital market SOON. Interpretations of what the President said must not be construed as his.#Ghana #JoyNews #CitiNewsroom #TV3NewDay #GMG pic.twitter.com/UlPGnBzm69

— Richard Ahiagbah (@RAahiagbah) May 25, 2023
You can also watch the latest episode of People & Places:


IB/OGB