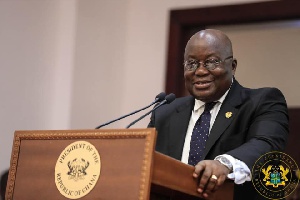 President Akufo-Addo says he has directed all government agencies and ministries to use locally manufactured food products beginning January next year.
Per his directive, all government agencies will use and consume Ghanaian rice.

The president made this declaration at his 3rd encounter with the media at the Jubilee House Accra Friday.

He said: "I've directed all the state institutions and government agencies to use Ghanaian produce, Ghanaian rice. I have started in my home at Nima, and I've started here [jubilee house].
"Let us tell our wives, cousins, whoever is responsible for your feeding to eat Ghanaian rice," he charged.

The President on Farmer's Day entreated all Ghanaians to join him in eating local rice. He said "we must eat what we grow to motivate our farmers and support the development of the local food industry."

He added that the success of government's efforts at ensuring self-sufficiency in rice production depends largely on the level of consumption of local rice.