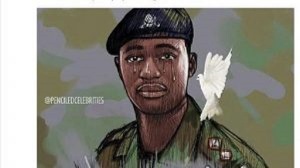 Dr Wereko-Brobby has criticised President Nana Akufo-Addo for going all out to support the family of the late Major Maxwell Mahama, who was killed by a mob at Denkyira Obuasi two weeks ago.
Akufo-Addo posthumously promoted Mahama from captain to major and set up a GHc550,000 fund to cater for the education of the late soldier's two children. Of the amount, GHc50,000 came from Akufo-Addo's own pocket. The president also agreed to a request by the family of Major Mahama to build a monument in his honour. Ghanaians have generally commended Akufo-Addo and his government for how they responded to the crisis, but Wereko-Brobbey is not impressed with the effort.

In an interview with Accra-based Starr FM, the former Volta River Authority CEO said it was a mistake for Akufo-Addo to have gone all out in support of the Mahama family the way he did. According to him, the government supported Major Mahama's family, but had neglected the families of other law enforcement officials, especially policemen, who died in the line of duty.

Wereko-Brobby made reference to Lance Corporal Robert Kumi Ackah, a policeman who was mistaken for an armed robber and shot by his fellow policemen in the line of duty He said it was unacceptable for the government to honour Major Mahama and ignore Lance Corporal Ackah.
Wereko-Brobbey blamed the media for aggressively covering the Major Mahama story while ignoring that of Lance Corporal Ackah. He said the government was forced by the intense media coverage to act on the Major Mahama issue.

"I resent the fact that the political class of this country did not treat two servicemen equally. Why would government go and issue GHC500, 000 and go over the top and visit families, justifiably, but I believe it should have been done equally. "The media precipitated that whole thing and forced the government to respond…so [government] was forced by the media coverage and if the media had devoted even half of the kind of expression they put to the one I think government may have been forced to do the same thing," he said.