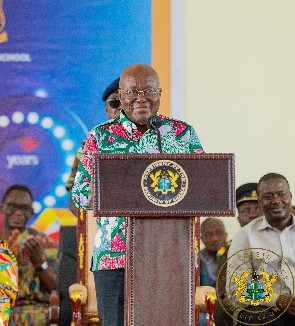 The Adontenhene of the Buem Traditional Area in the Oti Region has chastised the government for abandoning projects of previous governments in his community.
He is happy about the politicking that characterizes development issues in his community.

According to him, this has led to the abandonment of projects of the previous administration.

Doubling as the chief of Jasikan, Nana Edje Tete Kpase Brantuo VII, alleged that due to the inability of the New Patriotic Party (NPP) to secure adequate votes in the recent elections, most developmental projects in the area including the proposed agenda 111 district hospital have been abandoned by the government.
He expressed his displeasure about the situation in the area during a courtesy call on the traditional leaders of Jasikan ahead of a visit to the site by the Minority members of the Health Committee of Parliament.

Nana Edje Tete Kpase Brantuo VII urged the government to expedite work on the health facility