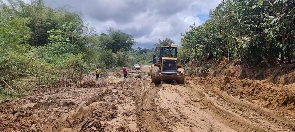 Correspondence from the Western Region
Some concerned residents of Kutukrom in the Evalue-Ajomoro Gwira constituency of the Western Region, have expressed their disappointment in the Akufo-Addo-led government for neglecting them.

They disclosed this to GhanaWeb's Western Regional correspondent over the weekend at Kutukrom.

Our regional correspondent visited the area and witnessed how residents of Kutukrom were suffering over the bad road network linking them to Prestea.

The Kutukrom to Prestea road network has been in a deplorable state for many years.

Over four months now, not a single commercial car has plied the road.
The only means of transportation to Kutukrom is a motorbike popularly known as okada.

It would be recalled that in 2020, President Nana Addo Dankwa Akufo-Addo and his roads minister visited the area to cut sod for the reconstruction of the road network from Kutukrom to Prestea.

However, our regional correspondent observed that no single work has been done on the stretch since 2020.

Unfortunately for our regional correspondent, the rain disrupted his news reportage.

Speaking to some concerned residents of Kutukrom, they stated, "In fact, we are suffering here and today that you have come here, you've been drenched by the rain. it seems like we are not part of Ghana, they don't care about us at all."
"We were here in 2020 and President Akufo-Addo and his people came here to cut sod for the construction of this road to Prestea and we thank God GhanaWeb, has come here to see that nothing has been done on our road," they added.

"President Akufo-Addo and his government have neglected us. You see our road, we are calling on President Akufo-Addo to come here again to experience our bad road network. They should think about us as human beings because we are suffering," they stated.

In his response, Kofi Arko Nokoe, the Member of Parliament (MP) for the area, revealed that he has been reminding the government to fulfil its 2020 pledge.

He expressed his disappointment in President Nana Addo Dankwa Akufo-Addo for abandoning the road network from Kutukrom to Prestea.

"My brother, it's a shame that President Akufo-Addo has taken the good people of Kutukrom for granted. As a result of the current state of the roads, no car is able to go to Kutukrom and my constituents here have to rely on motorbikes popularly called Okada to do their daily activities. It is very bad, I recall that I summoned the roads minister before the Parliament House over bad roads in the Evalue-Ajomoro Gwira constituency and his assurance wasn't accepted by my constituents.
"My brother, let me put on record that since President Akufo-Addo became president of Ghana, not a single kilometre of road network in Evalue-Ajomoro Gwira constituency has been tarred. Meanwhile, my constituency produces a lot of cocoa for this country," he expressed his worries.

He took the opportunity, to pledge to liaise with the residents of Kutukrom to reshape the Kutukrom to Prestea deplorable road.




Kutukrom is the largest and most populated community in the northern part of the Evalue-Ajomoro Gwira constituency.

Kutukrom is endowed with cocoa, rubber, cassava, plantain, and yam among others.