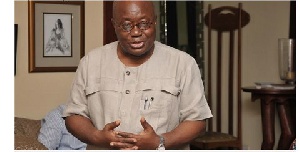 President Nana Addo Dankwa Akufo-Addo has begun his term on a sound footing, the 2016 flag bearer of the Convention People's Party (CPP), Ivor Kobina Greenstreet, has said.
He commended President Akufo-Addo for appointing his ministers in quick time but advised that his government intensify its monitoring and evaluation of the human resource in state institutions to ensure they work to help the New Patriotic Party (NPP) realise its campaign promises.

According to him, the extent to which government is able to monitor and correct deficiencies in institutions will determine its success or otherwise.

Mr Greenstreet made this known in an exclusive interview with Class News' Kwesi Parker-Wilson.

"It is very commendable that they've been able to appoint all of these ministers and regional ministers so quickly and I believe they intend to have appointed everybody in government by the end of March, which I think if they are able to achieve, that will be very commendable because it wasn't achieved by their predecessors, who were still appointing people for quite a lengthy period of time. So it's commendable," he stated.
Mr Greenstreet urged Ghanaians to support the NPP government but criticise them when there is the need to, adding that the time for making promises were over.

"We are waiting to see the content of the budget and see how they really intend to roll out their promises. …I think he (Nana Akufo-Addo) has certainly begun on a sound footing and we all need to support where support is due and criticise where criticism is due and I think that it is now that we are going to see the detail and it is always in the detail that you can get to see whether something is going to work or not," Mr Greenstreet said.

"So, time for the grand vision and the grand words is coming to an end. As you are well aware, we have a lot of institutional defects and deficiencies in our system and how our institutions work. And these are the very personnel, the very human resource that any leader is going to have to rely on to incrementally pursue and carry out his agenda. And so, therefore, the monitoring and the evaluation, urging and control of these processes is what is going to be the key to ensuring that it does not become grand words and grand schemes which can't actually be properly implemented. And so that is the hard work that confronts them and it is their attention to detail that will determine whether they are successful or not."