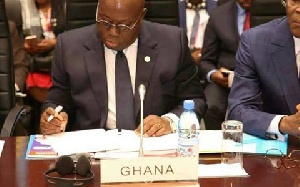 Minister of Information, Mustapha Hamid, has revealed that President Nana Addo Dankwa Akufo-Addo is yet to read the petition filed by some concerned workers of the Electoral Commission (EC) seeking to remove their chair, Mrs Charlotte Osei, from office.
According to him, the president was out of the country on a national assignment when the petition was filed.

President Akufo-Addo will be returning to Ghana on Tuesday night after a visit to France and Ivory Coast.

The petition, signed by the lawyer for the staff, Maxwell Opoku-Agyemang, said Mrs Osei's cancellation of a contract between the EC and Superlock Technologies Limited (STL) – a company contracted to supply and manage Biometric Voter Registration machines (BVRs) and the Biometric Voter Devices (BVDs) – coupled with her ordering of the payment of $76,000 to IT firm Dream Oval, were fraudulent.

"The Commission signed a contract with Super Tech (STL) Limited on the premise of that Voter Registration Exercise was going to be electoral area based. Upon assumption of office as Chairperson of the Commission, Mrs. Charlotte Osei unilaterally abrogated the said contract without recourse to the same Commission that approved the earlier version," the petition said.
"She single-handedly renegotiated the contract with the vendor without the involvement of the members of the Commission, not even the deputies. She then awarded the contract to the tune of $21,999,592 without going through tender contrary to the Public Procurement Act. The Chairperson then re-awarded these contracts without approval from the Commission," it added.

Speaking in an interview with Class91.3FM on Tuesday afternoon in relation to this matter, Mr Hamid said the president "is yet to read the petition because he has been out of the country since the petition was filed."

He said the president will use the rest of the week go through the petition when he returns.