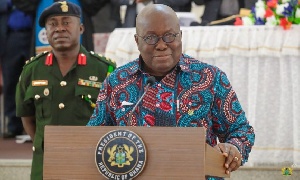 President Nana Addo Dankwa Akufo-Addo has the powers to change the Founder's Day Celebration to any other day even without sending a bill to parliament for consideration as done by the late President John Evans Fiifi Atta Mills.
"When President Mills was going to make this day a holiday he used an Executive Instrument and another President can also use the same Executive Instrument to undo what he did". Dr. Okoe Boye, New Patriotic Party (NPP) lawmaker for Ledzokuku in the Greater Accra Region has said.

"Because we want to unify the nation and do not want to use our position we want to seek your consultation to change the day to Kwame Nkrumah Memorial Day", he stated on GHOne State of Affairs.

"When it comes to discussing Founder's Day whether with an apostrophe before the's' or after the 's' most politicians or Ghanaians will talk and pitch camps", the legislator pointed out.
President Nana Akufo-Addo has proposed legislation to designate August 4 as Founders' Day according to a statement from the Presidency signed by its Director of Communications, Eugine Arhin.

The birthday of Ghana's first President, Dr. Kwame Nkrumah, on September 21, will be observed as Kwame Nkrumah Memorial Day. Dr. Kwame Nkrumah's birthday was originally observed as Founder's Day.

The Convention People's Party says government's proposal to make August 4, the country's Founders' Day is a deliberate ploy to protect the ancestry of President Akufo-Addo.