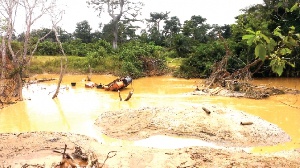 President Nana Addo Dankwa Akufo-Addo has demonstrated a positive attitude towards making illegal small-scale mining, locally known as galamsey, a thing of the past, Dr Abdulai Dramani, a development consultant, has said.
According to him, the attitude of the president shows that there is the political will to fight the menace, however, more must be seen coming from the government beyond the mere statements from the president against galamsey.

Speaking in an interview with Emefa Apawu on the 505 programme on Wednesday April 5, Dr Dramani said: "Obviously if there is the will, it is possible to win the fight against galamsey. I will say that the current government is making quite a number of pronouncements about [illegal] small scale-mining, which illustrates a positive attitude toward addressing the problem, but I must be quick to add that this is not the first time successive governments have come with public statements yet we ended up at where we are today. It is hoped that these political statements will be backed by actions."

He further stated: "I am yet to see concrete actions against galamsey… I think that our approach historically has always been a very hostile one towards small-scale mining and we have always pointed out that that is not the way to go. It is a fire-fighting approach which will not in any way address the core issues relating to the sporadic ways towards small-scale mining being undertaken in Ghana."

Meanwhile David Agbey, a security expert, has said the President does not have the fortitude to fight illicit small-scale mining (galamsey) in the country because some members of his party who may have financed his campaign are directly involved in the business.
According to him, this is the time those financiers of his campaign feel they can rake in more money as a way of recouping what they invested in the campaign, a situation which makes it difficult for the president to actually ensure that the issue is brought under control.

Speaking in an interview with Emefa Apawu on 505 on Wednesday April 5, Mr Agbey, responding to a question regarding the ability of Mr Akufo-Addo to fight galamsey, said: "I think that the president will not be able to do that.

"He doesn't have the balls to be able to actually pursue (the fight against galamsey) to the bottom. As we are talking now, it is just like people are paying lip service with regards to this fight against galamsey.

"In real terms, in terms of business sense, people have invested heavily in prosecuting the agenda that the president becomes president and this is the time that they believe that they can also enrich themselves by mobilising all forces such that they will be able to step in to do massive galamsey. It is quite a thorny issue as we are talking."