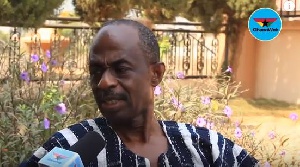 General Secretary of the National Democratic Congress (NDC) Johnson Asiedu Nketia has taken a swipe at President Nana Addo Dankwa Akufo-Addo accusing him failing to show leadership in with his comments regarding the military deal Ghana has signed with the United States of America (USA),
According to him, the president failed to stick to the issues that have been raised about the deal but rather chose to insult his opponents for criticizing it.

Mr Akufo-Addo on Thursday urged Ghanaians to, as far as the defence deal is concerned, "reject the unspeakable hypocrisy of the naysayers who led our country into bankruptcy in the worst economic record of modern Ghanaian history", adding: "Let us rise above them."

In a national address on the matter to clear the air about the defence cooperation deal which has been mired in a lot of controversy at home, President Akufo-Addo rejected accusations by the main opposition National Democratic Congress and its Minority in parliament that he has sold Ghana's sovereignty to the US for $20million per the deal.

According to him, the NDC and its Minority are being hypocritical about the whole deal.

"How else would we have exposed the unspeakable hypocrisy of a fraternity of some frontline politicians who make a habit of running with the hares and hunting with the hounds who secretly wallow in the largesse of the United States of America while at the same time promote anti-American sentiment to a populist constituency.
"We have to take issue with the frontline politicians who have sought to mislead the people in this blatant manner and those who for mischievous purposes leaked the document destined for the scrutiny of parliament premature to a section of the media who then went on to describe it as a secret document.

"How could a document, intended for the consideration of parliament be described as a secret document? How could anyone who has been in government and run the administration of this nation feign ignorance of the conditions under which Ghanaian troops undertake peace-keeping operations or the conditions under which our country has collaborated with major international institutions?



"It is difficult to understand that such people, knowing what they do know, will go about so blatantly to confuse people and go as far as calling for the overthrow of our democracy."

During an interview on Accra FM, Mr Nketia indicated that the attacks on persons who have opposed the deal is a diversionary tactic the president employed.


He said: "He failed to show leadership as far as our security is concerned. He chose to insult his opponents rather than speaking to the issues."

"He has no answers to the issues we have raised, and, so, he wants to divert attention from the real issues. We are not going to fall for his diversionary tactic and swallow this debate, we will continue to raise those issues."