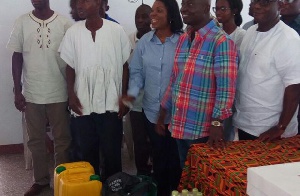 Samuel Atta Akyea, Member of Parliament (MP) for Abuakwa South Constituency in the Eastern Region, has indicated that President-elect Nana Addo Dankwa Akufo-Addo, has been chosen by God to save Ghana from the mess created by the National Democratic Congress (NDC) government.
According to Lawyer Atta Akyea, God listened to the cries of Ghanaians and gave them Nana Akufo-Addo to improve their lives.

The Abuakwa South MP, who made these known when he donated assorted drinks, bags of rice, cooking oil, sugar and other items to the SOS Children's Village at Asiakwa in the East Akim Municipality of the Eastern Region on Christmas Day, called on Ghanaians to pray to God to assist Nana Akufo-Addo to fulfill all his promises to develop Ghana.

Speaking at a durbar, Atta Akyea, who was accompanied to the facility by his constituency executives, said the exercise was in fulfillment of his Christian duties.

"In the spirit of giving during this season, the constituency executives and I decided to come here and spend Christmas with you by donating these items.
"Small as they are, we hope they will be of good use to the children here."

Director of the facility, Emmanuel Effirim, who received the items on behalf of the children, said his outfit was thankful for the support and would ensure they were put to good use.

"We are hopeful that these items will go a long way to help the children. Keep supporting us; we can't wait to have you here again."

He, however, appealed to other corporate entities to assist the less privileged at the facility.