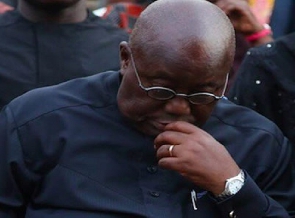 Nana Akufo-Addo is a "disaster" of a President, the founder and leader of the All People's Congress (APC) has told Blessed Sogah on Class91.3FM's 'State of the Nation' programme.
Over the years, Dr Hassan Ayariga noted, "we have always believed" that the main opposition National Democratic Congress (NDC) and the governing New Patriotic Party (NPP) "will salvage us", but "going into 2020, I think we should debunk that assertion".

"Nana, as President, has proven beyond all reasonable doubt that the NDC and NPP cannot lead us anymore and that they have failed", Dr Ayariga asserted, adding: "I mean Nana was the last hope for both political parties and he's been a disaster as President, the worst President in our history".
"I think he [Nana Akufo-Addo] himself admits that he is the worst President in the history of Ghana", Dr Ayariga insisted, observing: "Ghanaians are tired, Ghanaians don't even want to hear the words NDC and NPP again, Ghanaians don't even want to vote again, they've lost confidence in voting, they don't even have the hope anymore, Ghanaians don't even believe in politics anymore, even the NPP themselves are not happy with the current happenings in the country, there's no leadership, we have lost it all."

President Nana Akufo-Addo, he noted, "who many thought would have been the one person who would have salvaged this country, has been the one person who has actually destroyed this country. I don't even know how to describe Ghana anymore".