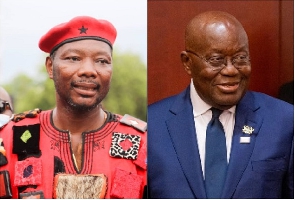 Former Chairperson of the People's National Congress (PNC), Bernard Mornah, accused President Nana Addo Dankwa Akufo-Addo of being a 'tribal bigot' and a sell-out.
According to Mornah, Akufo-Addo is a sell-out because he has decided to use his power as president to set aside important celebrations in Ghana and Africa just for parochial reasons.

The former PNC chairman, who made these remarks in an interview on TV3 on Thursday, May 27, 2023, which was monitored by GhanaWeb, said that the president has used his power to brash aside the celebration of the African Unity Day (AU Day) and the Republic Day celebrations - two important celebration in the history of Ghana.

"Akufo-Addo is a sell-out... you don't know Akufo-Addo is a sell-out? How can you say we should not recognise African liberation day? How can you sell that we should not recognise 1st July which is the actual day that Ghana disassociated itself from colonial york?

"Because our independence was achieved in series. 6th March 1957 was not the climax of our independence struggle. Even after independence in 1957, you know that we still had to take instructions on our laws and other things. If we wanted to do anything mega, we needed the approval of the crown.

"So, it was not until 1960 that we become a republic. So, on 1st July 1960 was the time that Ghana become fully independent and you say that day is of no consequence to you," he said.
He added that Akufo-Addo is happy being called president but he does not want to recognise the day when the presidency was instituted in Ghana which is July 1, 1960, when Ghana became a republic.

Mornah also narrated how he chastised Prof Pirlo Lumumba, one of Africa's greatest orators, when he said he will add Akufo-Addo to his African cabinet in 2020.

He said that he spoke to Prof Lumumba and asked him "How on earth can you take a sell-out like President Akufo-Addo to say that he is qualified to be in any African cabinet… I told him President Akufo-Addo is a tribal bigot."

He added that years later, he met the renowned academic who told him (Mornah) that he was right about his views on President Nana Addo Dankwa Akufo-Addo.

You can also watch the latest episode of People & Places:


IB/OGB