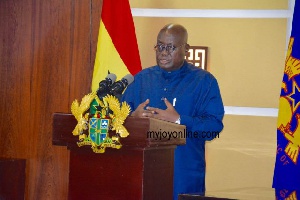 The New Patriotic Party (NPP) took Ghanaians for granted during the 2016 electioneering campaign by making ambitious and expensive promises just to win political power and will now have to fulfil those promises, Peter Nortsu-Kotoe, Member of Parliament for Akatsi North, has said.
President Nana Akufo-Addo and the NPP promised Free Senior High School education, removal of nuisance taxes, a dam in every village of the North, restoration of teacher and nurse trainee allowances, annual payments of one million dollars to each of the country's 275 constituencies, among others.

But speaking on the Executive Breakfast Show (EBS) on Class91.3FM on Thursday 2 March, Mr Nortsu-Kotoe said fulfilling those campaign promises would be difficult for the government.
"The NPP took Ghanaians for granted. They worked on their gullibility by saying, 'let's make promises to these people and they can vote for us'. The promises are many, over 30 promises… So once they have been able to convince the people to vote, they must make sure that they fulfil the promises," he stated, adding: "But how they are going to fulfil those promises is the problem because some of them look overambitious and costly especially with the Free Senior High School. It is very expensive," he explained.

The lawmaker noted that the NPP government's maiden budget would not be the panacea to all problems facing the country because "there are a number of challenges that they are going to face and when they come to realise they are faced with the stark realities of the situation on the ground, then they will be able to understand the dynamics of governance".