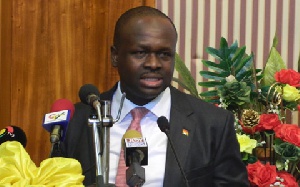 Government has rubbished allegations by the opposition New Patriotic Party that it is dubiously inflating contracts to the detriment of the state.
Flagbearer of the NPP Nana Akufo-Addo in an address at the just ended Conference of the party in Sunyani in the Brong Ahafo region accused the Mahama-led administration of corruption and poor governance.

Reacting to the allegations, however, Communications Minister Dr. Omane Boamah in a statement urged the former attorney general to desist from the campaign of "malice" and "lies".

Below are details of the statement

Government responds to false claims by Mr. Akuffo Addo

In response to yet another false claim by the flagbearer of the opposition New Patriotic Party (NPP) about inflated cost of infrastructure projects across the country, I wish on behalf of Government to advise Mr. Akuffo Addo to stop embarrassing himself and draw useful lessons from his previous blunders.

While it is very clear that the opposition NPP has adopted a campaign strategy that focuses on spreading malicious falsehood about government, one expected that the leader of the party would rise above such unwholesome politicking and embrace a campaign of ideas.
It is unfortunate that he has himself assumed leadership of his party's campaign of calumny and disinformation. A few months ago, he peddled a blatant and deliberately packaged lie that government spent an amount of US$10 million to print presidential diaries. We are still waiting for his evidence to support the falsehood, which he peddled on an international platform.

Before then, Mr. Akuffo Addo had also made false and uninformed claims about the cost of the Kasoa Interchange Project without recourse to any evidence. Infact, it took a member of his own party to point out to him that his claim was unjustifiable.

The exposure of these claims to be untrue brought considerable embarrassment to Mr. Akuffo Addo and we were of the view that he would draw useful lessons from these and refrain from such reprehensible conduct.

It would appear however that he is determined to press ahead with this ignominious role as the 'Peddler-In-Chief' of lies and concocted stories about Government.

We note that ever since government began the publication and provision of irrefutable evidence of its achievements, the leadership and membership of the opposition party have changed their oft-repeated narrative of "non-performance" to one of "inflation of project cost".

In their misguided view, this desperate narrative will taint these projects and obscure the benefits that our people will derive from them.
Let me place on record that our performance in Government as summarized in the book, 'Accounting to the people' is unassailable and cannot be wished away. The unparalleled investments we have made in education, health, water, housing, roads, transport, and security among others have led to significant and measurable improvements in the living conditions of our people.

We are aware that the NPP perceives these achievements as an existential threat hence their resort to outright falsehood as a means to detract from them. No amount of falsehood about government's performance however will change the fact that the NPP's record over the eight years they were in power pales into insignificance when set against what the NDC has done in office.

We also note that this loud noise about inflation of project costs is intended to achieve the objective of foisting on Ghanaians a general perception of corruption. This is clearly an exercise in political rent-seeking.

It takes virtually no effort however to discern that the self-righteous posture of the NPP on the issue of corruption is at odds with their conduct in government.

This strategy by the NPP and their agents in the media is only a defence mechanism designed to avert scrutiny of their record and history in government. Their posture is completely bereft of any moral value in view of the open season for corruption that was declared when they were in power- "Corruption is as old as Adam", President J. A. Kufour said.

We recall that the NPP's policy on the fight against corruption was non-disclosure and official concealment. They explained that such a policy would prevent the collapse of their Government.
When the people of Ghana looked forward to concrete action to stem the canker, it was justified as having 'started from Adam'.

Particularly we are amused at the frantic efforts being made by the NPP to clothe their flagbearer in borrowed garments as far as corruption is concerned. The proclamation of his "incorruptibility" by communicators of the party is but an artifice erected to mask his total lack of credentials in the subject.

His tenure as Minister for Foreign Affairs and Regional Integration witnessed one of the most appalling instances of corruption in recent memory when he sat aloof as prime land belonging to his ministry was carved out and shared among NPP supporters and a host of government and public officials.

We refer specifically to the International Students Hostel land, which is currently occupied by the Ministry of Foreign Affairs and Regional Integration. A leader under whose watch such immoral land grab occurs cannot lay claim to anti-corruption credentials.

President Mahama on the other hand is not given to lofty but empty rhetoric about corruption. He has adopted a root and branch approach to fighting corruption. Without hesitation he is ensuring the investigation, prosecution and retrieval of proceeds of corruption where evidence has been adduced.

Even as we continue to execute the mandate bestowed on us by the people of Ghana, we will continue to keep them apprised of the use of their mandate and resources. In this endeavour we will not be distracted by the NPP's morbid affinity for falsehood. We are supremely confident in the capacity of the people of Ghana to tell what is fact from fiction.
While at it we urge Mr. Akuffo Addo, to accept responsibility for the tattered and battered state of his party in which dissent is crushed under the guise of disciplinary action.

The incessant accusations of deep seated internal corruption, unrest, bickering, violent clashes, lawlessness and brutal killings that have been their stock in trade for over a year now has greatly diminished the NPP's brand.

Let Mr. Akuffo Addo walk his lofty talk by moulding a united and cohesive party from what lies in ruins today. Let him stop the vendetta against persons within his party who are intent on exposing internal corruption. Let him show tolerance of divergent views within his party.

Let him guarantee the safety of his critics within the NPP at its headquarters and above all let him end the campaign of falsehood.

Then, and only then, can scope be created for a healthy exchange of ideas, which electoral campaigns should be about.

Edward K. Omane Boamah (Dr.) Minister for Communications Accra. Monday, December 21, 2015