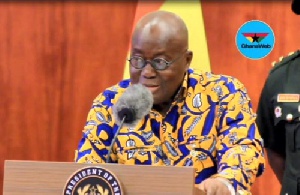 A political science lecturer with the Kwame Nkrumah University of Science and Technology has cautioned President Akufo-Addo to 'slow down' with the institution of the celebration 'Founders' Day'.
According to Dr. Edward Brenya, the president may end up celebrating just a political tradition instead of celebrating the fore bearers that actually played significant role in the struggle for independence from colonial rule.

The political science lecturer was speaking to host of Abusua Nkommo, Kwame Adinkra on president Akufo Addo's suggestion that a legislation be passed to declare August 4 as Founders' Day.

The president has also proposed the celebration of September 21 as the birthday of Ghana's former leader, Dr. Kwame Nkrumah.
But Dr. Brenya argues "if it's possible, let's concentrate on the celebration of our national independence and later concentrate some energy on the debate surrounding the founders' day.

"Kwame if we don't take care, a time will come a government of the National Democratic Congress will also declare June 4 as founder's day because Rawlings also believes the June 4 revolution set the pace for Ghana's actual realisation of civil democracy and disciplined leadership," he said.

Dr. Edward Brenya is therefore urging President Akufo Addo to be cautious of the two declarations he is proposing "as they could polarised the country along political traditions."