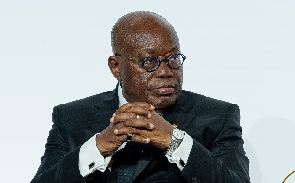 President Nana Addo Dankwa Akufo-Addo was the guest of honour at the 2023 Bar Conference organized by the Ghana Bar Association (GBA).
This year's edition took place in the Central Regional capital of Cape Coast o September 11 under the theme: "Ensuring High Standards and Integrity in Public Life; The Role of the Legal Profession."

This was the seventh consecutive year the president has addressed the conference.

"I am aware that it is a privilege, which I will continue not to abuse," Akufo-Addo stated in his speech.

The speech covered a number of areas ranging from issues of governance and need for cooperation between the three arms of government to the fight against corruption and attacks on the judiciary.

In his address on corruption, Akufo-Addo pledged to continue putting in place measures to continue combatting the menace, rejecting the clearing agent tag he has serially been referred to as and listing a number of cases involving his appointees to illustrate his commitment to the corruption fight.

"It is not my job to clear or convict any person accused of wrongdoing, or of engaging in acts of corruption. That is the job of the courts and the law enforcement agencies.

"My job is to act on allegations of corruption by referring the issue or issues to the proper investigative agencies for the relevant enquiry and action, including, if necessary, the suspension of the affected official, pending the conclusion of investigations.
"That is exactly what has been done since I assumed the mantle of leadership on 7th January 2017," he stressed.

Below are the cases he listed:

1. Allegations against the then Minister-Designate for Energy, Boakye Agyarko, at his parliamentary confirmation hearings in 2017;

2. Allegations against the former CEO of BOST, Hon. Alfred Obeng;

3. Allegations against the then two deputy Chiefs of Staff at the Office of the President, Hon. Francis Asenso Boakye and Hon. Samuel Abu Jinapor;

4. Conflict of interest allegations against the Minister for Finance, Ken Ofori-Atta;

5. Claims of extortion against the then Trade and Industry Minister-designate, Alan Kyerematen, at his parliamentary confirmation hearings in 2017;
6. Allegations of dabbling in visa racketeering against the then deputy Minister for Youth and Sports, Pius Hadzide, and the then Director General of the National Sports Authority, Hon. Robert Sarfo Mensah who, even though exonerated by the CID, later resigned; the Chairperson of the Board of the National Sports Authority, Hon. Kwadwo Baah Agyemang ;

7. Allegations of bribery levelled against the Secretary to the Inter-Ministerial Committee on Illegal Mining, Charles Bissue;

8. Case involving the dismissed acting CEO of the Public Procurement Authority (PPA), A. B Adjei; and the dismissed CEO of the National Youth Authority, Emmanuel Asigiri – they have all been investigated and, in most cases, cleared by the authorised institutions of our state, and not by President Akufo-Addo.

9. The latest episode involving the former Minister for Sanitation and Water Resources, Hon. Cecilia Abena Dapaah.

Present at the GBA conference were the Attorney-General and Minister of Justice, Godfred Dame, Chief Justice Gertrude Torkornoo, executives of the GBA and a number of retired Justices of the courts.

SARA

Click here to start the nomination process for the 2023 GhanaWeb Excellence Awards
Ghana's leading digital news platform, GhanaWeb, in conjunction with the Korle-Bu Teaching Hospital, is embarking on an aggressive campaign which is geared towards ensuring that parliament passes comprehensive legislation to guide organ harvesting, organ donation, and organ transplantation in the country.

Watch a GhanaWeb Special with Etsey Atisu as he speaks to young artist Enil Art





You can also watch the latest episode of Everyday People on GhanaWeb TV below:




Share your news stories and ideas with GhanaWeb




To advertise with GhanaWeb