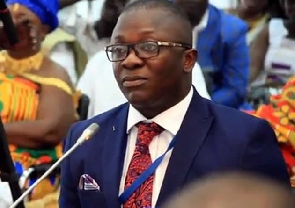 President Nana Addo Dankwa Akufo-Addo has been asked to sanction the Minister of State in Charge of National Security, Bryan Acheampong, for operating outside 'his mandate'.
Mr Adam Bonaa, a Security Analyst says the mandate of the National Security is not to assign officers or distribute arms, but once Bryan Acheampong did that he moved out of his jurisdiction and must be punished for that.

"If I were the Commander in Chief of the Armed Forces, I would sanction him immediately . . . from where I sit, I can see a lot of lapses," he intimated.

Though the Ghana Police Service has said they had no knowledge that the 'SWAT' team had been assigned to the Bawaleshie electoral area during the Ayawaso West Wuogon by-election, Minister of State in-charge of National Security, Bryan Acheampong is reported to have said his outfit deployed the masked security men present at the Ayawaso West Wuogon by-elections.

According to him, the men were deployed based on intelligence picked up by his outfit concerning the by-election.

"We deployed all kinds of security forces in operation depending on the information we had from the polling grounds, there were some in uniforms and some in plain clothes. This is not a new directive, it happens all the time," he stated in an interview with Citi FM news.


Speaking to this act which has been widely condemned by several groups and individuals in an interview on Class FM, Mr Adams Bonaa queried: "has the mandate of the National Security changed from being a coordinating and monitoring evaluating unit or agency to one that must keep a standby post, one that must have an armoury to one that deals with suspected terrorists who according to them, picked intel? Is it their mandate, has it been changed?"

According to him, "when these questions are answered, it will go to explain the lack of coordination or coordination of our security agencies . . . The National Security Service is to pick intel and share same with the Ghana police . . . but when you have the National Security acting on its own when the law hasn't changed; that is worrying."