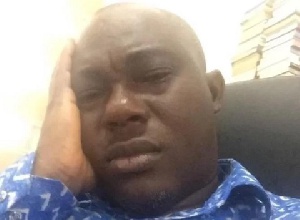 Lecturer to the late Major Maxwell Adams Mahama is urging president Akufo-Addo to sign the death sentence of killers of the late soldier should the court hearing their case rule in that regard.
According to Prof. Ransford Yaw Gyampo, after the president has assented to the death sentence, the convicts must be subjected to public execution as this will make mob action unattractive to the citizenry.

Prof. Ransford Gyampo who is also head of the Center for European Studies of the University of Ghana believes the public execution will also deter the citizenry from lynching innocent persons like in the case of Major Maxwell Adam Mahama who he said was his student.

Speaking in an interview, the lecturer said, "I really think the president should sign and assent to death sentence of the accused if the court rules in that regard."
"After assenting to such a ruling, if any, the execution should be done publicly to deter other lawless citizens from meting out instant mob action against innocent citizens of the land."

The sad looking lecturer adds, "there must also be a memorial statue in the town of Denkyira Oboase in other to constantly remind the up and coming generation of the area that once upon a time, their forebearers took the life of an innocent soldier sent to protect their own environment."

"The late Adams Mahama's senseless killing must teach the people of that area a lesson they will not easily forget," he charged.