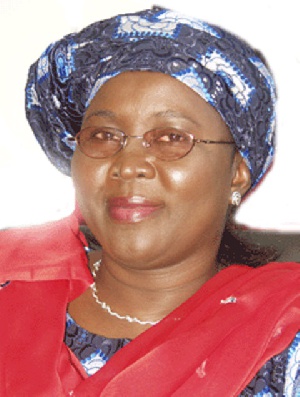 The president-elect, Nana Addo Dankwa Akufo-Addo, has named Hajia Alima Mahama as a minister in the next New Patriotic Party (NPP) administration when he takes office on January 7, 2017.
Nana Akufo-Addo dropped the hint when together with his vice president, Dr Mahamudu Bawumia, paid a visit to the Overlord of the Mamprugu Traditional Area, Nayiri, Naa Bohogu Mahami Abdulai Sheriga at Nalerigu as part of the 'thank you' tour of northern Ghana.

She is the second person to be named after Alan Kyerematen was introduced to captains of industry on Wednesday as the next Trade and Industry Minister following DAILY GUIDE's prediction that the two people had been penciled down with a number of people as would-be ministers.

Hajia Alima Mahama, who was a deputy minister and later Women and Children's Affairs Minister in the Kufuor administration, is said to be heading straight to the Local Government and Rural Development Ministry as the boss.

Nana Akufo-Addo said, "The people of Nalerigu not only voted for me, but also voted for their daughter, Hajia Alima Mahama, to represent them in parliament. It is a very good choice, and I want you, Nayiri, to know that she's going to be a part of the Akufo-Addo government from 2017. So you have a double burden. Two of your children are going to play a big role in my government. So we're going to need your wisdom and guidance to succeed."

Dr Bawumia is also a native of Mamprugu in the Northern Region.
It will be recalled that after the declaration of Nana Akufo-Addo and the NPP as winners of the December 7 elections, the first delegation of any traditional ruler in Ghana to pay a courtesy call on the president-elect was sent by the Nayiri, which was made up of prominent chiefs of Mamprugu.

It is for this reason Nana Akufo-Addo explained, "I have come here today, on my part, to also say 'thank you' for the support and prayers that you gave me. God listened to your prayers and that is the basis for our victory."

Nana Akufo-Addo indicated, "I am counting on you for your continued support, prayers and advice to make sure that we walk in the right direction, and do the right things for our country."

The president-elect also requested prayers for the vice president-elect, Dr. Mahamudu Bawumia, son of the Nayiri, explaining that "he is going to be the key figure in the reconstruction of the economy of our country."

According to Nana, "He" (Dr Bawumia) "is going to be the Chairman of the Economic Management Committee, so he is going to need your special prayers to make sure that he acts with wisdom and be successful in the discharge of his duties."
He also assured Naa Abdulai Sheriga that "All the promises that I made to the people of Ghana, and the specific ones I made to the people of the northern regions of our country, God is going to give me the power and energy to fulfill those promises."

New SADA

Nana Addo announced his intention to restructure the Northern Development Authority, re-christened SADA by the current administration, "so that it becomes a genuine instrument of prosperity of the northern regions of our country."

The other commitments he made during the course of the campaign – irrigating the farmlands of the northern regions, bringing in basic amenities and infrastructural developments to the constituencies, amongst others – he said, will be fulfilled.

"I want it to be said, when the history of our country is being written, that it was in Akufo-Addo's time that Ghanaians began to enjoy widespread prosperity across the length and breadth of the country. And for that to happen, I am taking your advice that I have to bring everybody together, all the peoples of Ghana, without discrimination, as one united body to go forward and make Ghana the country of the dreams of our ancestors."
"It is possible and we can do it; with unity, courage and circumspection, we can do it. I pray to Almighty God that he gives me the opportunity to make this happen."

'Remain Focused'

The Nayiri urged Nana Akufo-Addo to remain focused during his tenure of office, and help improve the standards of living of Ghanaians.

According to the traditional ruler, Nana Akufo-Addo's victory in the December 7 election came by "dint of hard work and focus. So please remain focused and continue to work hard, and I am confident the good Lord will grant you success."

He noted that Nana Akufo-Addo's visit to him "is unique in the sense that you have come here so many times. In those days you came here, simply, as Nana Addo Dankwa Akufo-Addo. Today, you are coming here as president-elect Nana Addo Dankwa Akufo-Addo. Moreso, you have come here with my son to introduce yourselves to me."
The Nayiri wished the president-elect and his incoming government "a successful tenure of office."