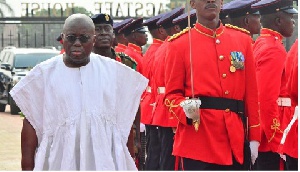 President Nana Addo Akufo-Addo has assured the Ghana Armed Forces (GAF) of government's resolve to improve their welfare.
According to him, his government will provide the personnel with modern military equipment to complement the training they have received.

The president said military personnel who embark on peacekeeping duties will receive their allowance on the field, irrespective of their location.

The president mentioned that the maiden edition of his government's budget factored in the Barracks Regeneration Project, which will refurbish and renovate all military barracks across the country. Additionally, he revealed processes had been initiated to extend the total number of years of military personnel could serve the nation.

"The legislative review of the Armed Forces Amendment Regulation 1986, LI 1332, has begun. The review will extend the serving time of other ranks from the current 25 years to 30 years. This is in fulfilment of our manifesto promise in the just-ended election. I want all Ghanaians to see me as a man of my word," the President said when he joined the army for the annual West African Security Services Association (WASSA) get-together in Accra.
He also promised to make the welfare of the men and women in uniform his priority.

The President quoted former British Field Marshall Bernard Montgomery, saying: "The soldier who is well provided for, who is not disturbed by petty and unnecessary inconveniences, who knows that everything possible is being done for him, who is well fed and clothed, is a contented soldier."

This, he said, was his government's vision and focus for the GAF.