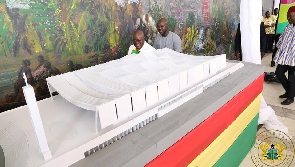 President Nana Addo Dankwa Akufo-Addo has insisted that government will complete the construction of the National Cathedral project.
According to him, this particular pledge he made to God will be fulfilled with support from the Christian community, despite the many criticisms and backlash.

Speaking during a visit to the construction site where works have been suspended due to cash constraints, President Akufo-Addo announced a cash donation of GH¢100,000 towards the project.

"As I have said before, the National Cathedral will not just be another monument adorning the skyline of Accra, it will be a rallying point for the entire Christian community to come together and worship…I am therefore committed to working with the Board of Trustees to ensure the completion of this project to the glory of God."

Meanwhile, Executive Director of the National Cathedral Secretariat, Dr Paul Opoku Mensah said the construction of the project is essential to the Church and the Christian community as a whole.

He further encouraged members of the Christian community to lend their financial support towards the completion of the project which has been initially scheduled for March 2024.
"If the Church Leaders stand with us on this project, we can easily raise One million people who will give us GH¢100 each. So essentially, we need the Church to stand with us. The state has done enough, all the preparatory works have been done, and the scope of work has been done without the state it was impossible," Dr Mensah noted.

"We need the Church in Ghana to stand with us, this is a monument to the Church, this is a monument to God and a symbol of the Christian presence in Ghana," he added.



About National Cathedral project

In May 2022, the Minister of Finance, Ken Ofori-Atta, announced that an amount of US$25 million had been released to enable the project consultants to undertake certain aspects of the construction of the National Cathedral.
The project, since its announcement, has courted widespread controversies, condemnations and backlash from the Ghanaian public, CSOs and lawmakers.

But the finance minister said the amount which was tagged as "seed money" was paid in November 2020, to the project consultants.

Ken Ofori-Atta was subsequently hauled before parliament by the Minority caucus under seven grounds of a censure motion against him.

Under these grounds, the National Cathedral project was key in the motion filed.

Meanwhile, the recently published 2021 Auditor-General's report discovered that a total of GH¢142,762,500 from the national coffers was spent on the Ghana National Cathedral project in 2021.
This particular expenditure was however captured under the government's priority programmes and interventions for the year under review.



MA/FNOQ