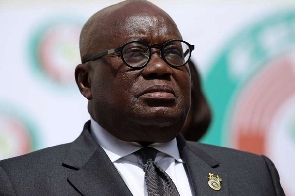 President Nana Addo Dankwa Akufo-Addo has reacted to a claim by his predecessor, John Dramani Mahama, that the courts in Ghana must be balanced by the next National Democratic Congress (NDC) government because it has now been filled by New Patriotic Party (NPP) members.
Speaking at the 2023 Ghana Bar Association Annual Conference in Cape Coast on Monday, September 11, 2023, President Akufo-Addo said Mahama's suggestion of balancing the courts is absurd.

He explained that the act of balancing the court is only viable in countries like the United States where judges are appointed on the basis of their political affiliations and ideology and not in Ghana.

Akufo-Addo said that Mahama, who he described as the "perennial NDC presidential candidate", has told the world that he has filled Ghana's court with NPP members, ignoring the process that goes into the appointment of judges.

"This (balancing of courts) has not been the case in Ghana, largely, because of the critical controlling role of the Judicial Council, a non-partisan body chaired by the chief justice, in the process of judicial appointments. This means that judicial appointments are conducted essentially on the basis of professional merit and suitability.

"Appointment to the lower courts, the High Court and the Court of Appeal are done by the president, exclusively on the advice of the Judicial Council. In the case of appointments to the Supreme Court because of its unique position in our judicial sphere; there are the additional requirements of the consultation of Council of State and the approval of parliament," he said.

He added, "In the overwhelming number of cases of justices designate to the Supreme Court, approval has been given on a bi-partisan basis. You can count on the figures of a hand, the number of justices designate whose approval met less than unanimous consent".
The president added that Mahama's suggestion is a danger to Ghana's democracy.

"Not only are these concepts of "NPP" and "NDC" judges new in our public discourse, but they are also extremely dangerous, and represent the most brazen attack on the independence of the judiciary by any allegedly responsible politician of the 4th Republic," he said.

What Mahama said about 'balancing' the courts:

Former President John Dramani Mahama called for a balancing out of Ghana's bench which he says is currently packed with persons who are sympathetic to the ruling New Patriotic Party (NPP).

He urged lawyers in the opposition National Democratic Congress (NDC) to prepare themselves to get onto the bench in order to balance out the massive appointments Nana Addo Dankwa Akufo-Addo has made onto the bench in the last seven years.

"You can see what the current president has done, he has appointed the biggest number of judges onto the bench, it is more than 80 towards 100 and counting," he noted in a virtual address to the 3rd Annual Lawyers Conference of the NDC on Saturday, September 2.
"He has packed the court and we know they have packed the court because they want to avoid accountability after they have left office. We must be prepared as NDC legal persons to also go onto the bench so that we can balance out the judiciary.

"Currently, the judiciary is packed with NPP-inclined judges because this government has carried out a deliberate policy of putting their people on to the bench.

"So, I encourage some of you to look at careers on the bench so that we can balance out what the current situation is," he added.

BAI/AW

Ghana's leading digital news platform, GhanaWeb, in conjunction with the Korle-Bu Teaching Hospital, is embarking on an aggressive campaign which is geared towards ensuring that parliament passes comprehensive legislation to guide organ harvesting, organ donation, and organ transplantation in the country.

Watch the launch of the 2023 GhanaWeb Excellence Awards on GhanaWeb TV below:




Click here to start the nomination process for the 2023 GhanaWeb Excellence Awards

Watch the latest episode of Legal Agenda on insurance claims on GhanaWeb TV




You can also watch the latest episode of Everyday People on GhanaWeb TV below: