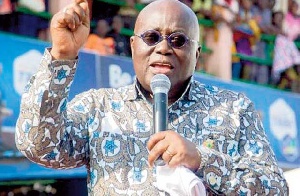 The Convention People's Party(CPP) has expressed outrage at President Akufo-Addo's proposition for a legislation to establish Founders Day and Kwame Nkrumah Memorial Day.
According to the CPP, the decision is in bad taste insisting there is only one Founder, per the history of the country.

President Nana Addo Dankwa Akufo-Addo is set to propose legislation to Parliament to designate 4th August as FOUNDERS DAY, and 21st September as Kwame Nkrumah Memorial day, both of which will be observed as public holidays.

A statement from the Presidency and signed by the Director of Communications at the presidency, Mr. Eugene Arhin said the President has to this end issued an Executive Instrument to commemorate this year's celebration of Kwame Nkrumah Memorial day as a public holiday.
Following the development, 21st September, which previously was marked as Founders Day will now be celebrated as Nkrumah Memorial Day in honor of Ghana's first president Dr. Kwame Nkrumah, the statement noted.

But the Director of Communications for the CPP, Kadri Abdul Rauf, in an interview with Accra-based Citi FM, said the President's renaming of the Founder's Day will be short-lived if the NPP leaves power.

"In the view of the Convention People's Party(CPP) we do not have Founders of the country, we have only one Founder and that is Osagyefo Dr. Kwame Nkrumah. And if NPP thinks that Dr. Kwame Nkrumah doesn't deserve to be the Founder and that there should be Founders, it is just going to be a temporal decision, because very soon they are not going to be in power forever, that is one thing they must understand."