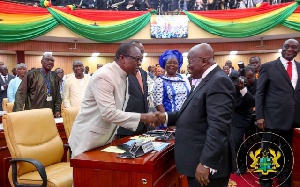 President Nana Akufo-Addo is repeating some of the mistakes of his predecessor John Mahama, flagbearer hopeful of the National Democratic Congress (NDC), Alban Bagbin, has said.
According to the Nadowli Kaleo MP, Mr Mahama surrounded himself with inexperienced young people who could not offer him the right counsel to lead the country and his party, the NDC.

In Mr Bagbin's view, Mr Akufo-Addo is repeating that "mistake".

Although he said the youth have a role to play in the political space of the country, the veteran lawmaker said the experienced and elderly cannot be relegated to the background.
He told Accra-based Joy FM that: "There are positions that you put them [youth] to bring them up..."

"I had an opportunity of even telling him [John Mahama] that it is very important to get very seasoned members who have gone through it all, who have made it in life and who are not going to look for material gains, but they are looking at the legacy they can leave behind, they will speak to you truthfully so that some of the mistakes you are making you don't."

He added: "His Excellency Nana Addo Dankwa Akufo-Addo is repeating some of the mistakes of John Mahama".