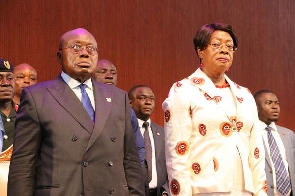 Sophia Akuffo, a former Chief Justice of Ghana, recently reacted to the brouhaha surrounding the appointment of three new top officials of the Electoral Commission (EC).
The comments widely reported in the media was part of an interview she granted Accra-based TV3 at an Institute of Economic Affairs programme in Accra.

She raised concerns over the appointments citing three parameters as pertains to the public service rules whiles admitting that the current constitutional setup makes the appointment political in nature.

The three main points she raised were on the issue of conflict of interest, public perception and possible amendment of existing procedures relative to such appointments of high public interest.

Conflict of interest

She said: "There are standards for the public service... and conflict of interest is something that always can be dealt with, whether it is written in black and white or not… and conflict of interest does not necessarily have to be actual; it can be potential."
Stating that she was not a politician in response to a question on the said appointment, Mrs. Akuffo explained with an analogy how a person appointed to a task could recuse themselves because of potential conflict of interest situation.

"I am not a politician, so, I don't know what goes on… the only thing I can do is use an analogy on the bench. If there is somebody you've worked with or you are about to serve on an important committee with… if they have a mater before you, it is up to you to determine whether you will recuse yourself or not.

"For me, I will recuse myself, not because it is likely to influence me but also in justice or doing the right thing in public office, a lot of it also depends on public perception and I think something to do with national elections and so on, public perception is important."

Public perception:

"… in doing the right thing in public service, a lot of it depends on public perception, and I think when it comes to something to do with national elections and so on, public perception is very important.
"Everything in this world that you can arrange in such a way that the dealings are at arm's length is better than somebody's arm is twisted and another person's arm is in their pocket," she stressed.

Analogy with appointment of judges elsewhere

"That is one of the appointments that people have been talking about, that is one of the appointments plus so many powers of appointment into certain positions where the relationship… if there could be another methodology or process or procedure, it would be more desirable.

"Even appointment of judges in most countries is not a direct nomination or appointment by head of state. It is by an independent commission," she explained.

Akufo-Addo's appointment greeted by backlash
President Nana Addo Dankwa Akufo-Addo, on Monday, March 20, 2023, swore-in three new members of the Electoral Commission of Ghana (EC) at the Jubilee House.

The three new members of the EC, Dr. Peter Appiahene, Hajia Salima Ahmed Tijani, and Reverend Akua Ofori Boateng, are expected to serve in their new roles till the end of the 2024 elections and are replacements for members of the commission who recently retired.

Akufo-Addo has been heavily criticized for the appointment because some of the appointees are said to be known members of the New Patriotic Party (NPP).

The president is being particularly berated for the appointments of Dr. Peter Appiahene, who is said to be a patron of TESCON, the tertiary education branch of the NPP, and Salima Ahmed Tijani, whose family relations are leading members of the NPP.

Watch the latest edition of People & Places below:






SARA