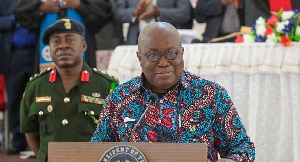 A member of the Socialist Forum-Ghana Dr. David Pessey has described as "silly" attempts by the governing New Patriotic Party (NPP) to rewrite the history of the country.
He said this Wednesday while debating against the motion that Ghana has more than one founder on GHone TV moderated by Kafui Dey.

"Even for people in the diaspora, this debate will sound quite silly to them," he argued. "The NPP has executive power and can change the history of this country but it will not stay. The business of falsifying history will not stop now."

President Akufo-Addo is set to propose to Parliament to adopt August 4 as Founders' Day for the Republic.
The proposal will also request parliament to approve September 21 as a holiday to be observed in honour of Ghana's first President Dr. Kwame Nkrumah.

In a statement, the President bemoaned the confusion that has heralded the role previous leaders played towards Ghana's independence.

"It is unfortunate that 60 years after independence, the history of the events leading to it continues to be embroiled in unnecessary controversy, due largely to partisan political considerations of the moment," the statement said.