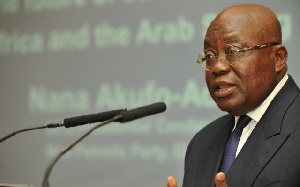 President John Dramani has described the refusal of the flag bearer of the opposition New Patriotic Party (NPP), Nana Akufo-Addo, to participate in a recent presidential debate organised by state broadcaster GBC in collaboration with the National Commission for Civic Education (NCCE), as "the greatest disrespect you can show to the Ghanaian people".
Mr Akufo-Addo cited unfairness on the part of the state broadcaster for his refusal to take part in the debate. He accused GBC of acting like the propaganda wing of the governing party.

The three-time presidential candidate has rather been having interviews with some selected radio stations including Peace FM on Friday, December 2.

Addressing party supporters in the Volta Region on the same day, Mr Mahama said it was wrong for Mr Akufo-Addo to boycott the debate.
"He says so many things that are wrong. So I said come and sit down and let's have a debate so that Ghanaians will know the truth; he ran away. So after running away from the one-on-one, the NCCE gave the opportunity to all of us who want to be president to come and tell Ghanaians why we want to be president. That one was not one-on-one, so at least show respect to the Ghanaian people and come – that one too he ran away," mocked Mr Mahama.

"And that is the greatest disrespect you can show to the Ghanaian people. I am the president; I should be the one reluctant to come to the debate because all of them will be attacking you because they want your post. But I am the first sitting president to take part in a debate: in 2012 I did it, and this year too, I engaged in the debate. But the leader of the opposition is rather running away, which is very strange. Even Trump with all his wild ideas had the boldness to attend the debate. This morning he (Nana Addo) rather went on Peace FM and spoke 'slangs' there. So I said: 'If you can speak slangs, then you should come to the debate and speak there."