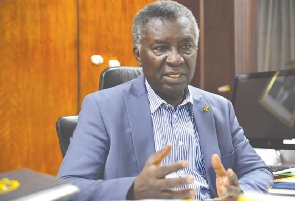 Former Environment, Science, Technology and Innovation Minister Kwabena Frimpong-Boateng must back his claim that galamsey is going on right under President Nana Akufo-Addo's nose at his Kyebi residence in the Eastern Region, the Kyebi traditional council has demanded.
Denying the world-renowned heart surgeon's claim in his 37-page galamsey report, in which he named top government officials as either being neck-deep in galamsey or supporting it, the council told journalists at the president's Kyebi home where they toured on Thursday, 27 April 2023, that there has never been illegal mining activities anywhere close to the president's home.

In his report, Prof Frimpong-Boateng, who chaired the Inter-Ministerial Committee on Illegal Mining, claimed that part of the president's Kyebi fence waĺl and garden got destroyed by galamseyers and his committee had to restore them.

The chiefs, however, denied the claim.

Kyebi chief Osabarima Marfo Kwabre told journalists during the tour: "There is nothing like that here and that is why I am here with the Kyebi executives, and we are to ensure that we clear the president's name."
"The reports of the president engaging in galamsey activities are not true," he insisted.

The chief added: "We are very uncomfortable that a man who has struggled for over 45 years to build his name is now being destroyed as he is preparing to leave the presidency, and it is very bad."

He, thus, dared Frimpong-Boateng to prove his claim.

"He should come here and prove to us that the president was engaged in galamsey, and we expect him to come here and prove to us," the chief said.