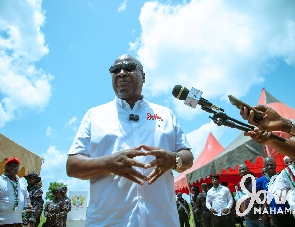 Former President John Mahama and flagbearer of the opposition National Democratic Congress (NDC) has described the administration of President Nana Akufo-Addo as the biggest threat to the constitutional democracy of the country.
He has therefore called on Ghanaians to reject the New Patriotic Party (NPP) in the forthcoming 2024 General Elections.

"Transparent and accountable governance in which opportunities are open to all and not just a few is the greatest guarantor of our democracy.

"The almost seven years of Akufo Addo and Bawumia's maladministration is the biggest threat to the survival of our constitutional democracy. Only a CHANGE of this inept NPP government can ensure the sustainability of our democracy," he said in a statement on social media.

He pledged to work to restore the hope of Ghanaians in the country's democracy when the National Democratic Congress (NDC) is elected and assumes the reins of power come January 7, 2025.
"The next NDC administration will work to restore hope to Ghanaians and quickly. The business-as-usual approach to governance, lies and propaganda will not work.

We cannot and must avoid repeating the mistakes of the NPP," he added.

The NPP defeated the Government of John Mahama in 2016 mainly on the promise to rid the country of corruption and promote rapid economic development. But about seven years into the administration of Akufo-Addo, corruption remains a major development problem, with civil society organizations calling on the Government to take action.