Akufo-Addo's government collaborators of corruption - Mahama reacts to AG's letter on COVID-19 report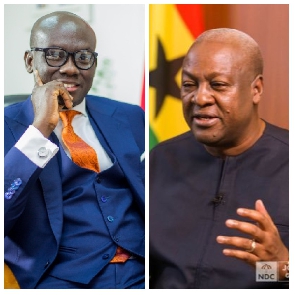 The former president of Ghana, John Dramani Mahama, has referred to the Nana Addo Dankwa Akufo-Addo-led government as people who are collaborators in the matters of corruption in the country.
According to him, a letter from the Attorney General and Minister of Justice, Godfred Dame, to the Auditor-General, Johnson Akuamoah-Asiedu, after a recently released report on COVID-19 expenditure in the country, is an attempt to gag the latter.

"The Attorney General's letter to the Auditor General is clearly meant to silence him and create a conducive atmosphere for corruption to thrive," he wrote.

John Dramani Mahama further stated that this action by Godfred Dame is an indication that the Nana Akufo-Addo government is a collaborator in corruption.

"President @NAkufoAddo's administration is not only indifferent in the fight against corruption - they are collaborators!" he added.

Background:

After the Auditor-General released a damning Special Audit Report on its findings on the government's expenditure of COVID-19 expenditures in the country since the deadly pandemic was recorded in Ghana, the Attorney General wrote a letter to the A-G.
In the letter, Godfred Dame asked Johnson Akuamoah-Asiedu to stop the publication of the report on the Special Audit of COVID-19 expenditures.

He further stated in the letter, based on Article 187(5) of the constitution, that the Auditor-General is rather mandated to submit his report to parliament, and in that report, draw attention to any irregularities in the accounts audited which is often concurrently published with the submission.

The Attorney General added that it was only after satisfying the constitutional requirement of submitting the Auditor-General's report to parliament that the report might be considered final and relevant action might be taken thereon.

You can also watch this episode of People & Places:



AE/WA