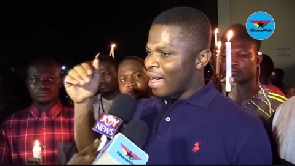 National Communication Officer of the National Democratic Congress (NDC), Sammy Gyamfi has described President Nana Addo Dankwa Akufo-Addo and his NPP government as 'talkatives' and 'braggarts'.
According to him, appointees of the NPP government including President Akufo-Addo are braggarts, always talking more but delivering little, hence, their inability to dredge the Odaw and the Korle lagoon to manage the heavy downpours at Kwame Nkrumah Circle.

Speaking on Okay FM's 'Ade Akye Abia' Morning Show, Sammy Gyamfi said even though there were some cases of flooding during former President John Mahama's reign, it was very minimal unlike the recent floods at Circle and its environs.

According to him there were some 27 areas which got flooded recently where there have never been floods before.

"The little desilting they were supposed to do in primary and secondary drains have not been done; except bragging and talking, that is what this government knows best. If you have a government that is full of talkatives, they will always talk, they will talk more but deliver little, this is what you will see," he said.

"We don't see how the situation can be minimized significantly, but at least, it is a must for the government to be up and doing . . . through the help of the media they should intensify education on the dangers of rainfall and human movement," he added.
He encouraged NADMO and all the relevant state agencies to make available all emergency services, facilities, resources, logistics and materials that will be used to contain the situation to help any victim.

"If we don't make such emergency services available, a lot more people will be stranded, displaced, a lot more people will die and properties will be destroyed. And we will not be able to provide any relief for those who will be affected," he cautioned.

Sammy Gyamfi however pontificated that the Minister for Works and Housing and Minister for Sanitation, Samuel Atta-Akyea and Madam Cecilia Abena Dapaah respectively must not continue to take salaries as Ministers as they have failed woefully to deliver on their jobs.

"They have shown to be grossly incompetent and unfit for the high offices they occupy. They themselves should do the honorable thing and resign . . . the President should sack them from their offices because the work he entrusted into their hands, they could not do it. He should ensure that he appoints those who have the capability to do diligent work and serve this country diligently to stop such flooding in Accra and the country at large," he slammed.