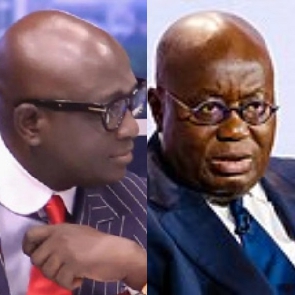 Veteran Ghanaian media personality, Kwasi Kyei Darkwah, alias KKD, has said that President Nana Addo Dankwa Akufo-Addo's government is the worst in Ghana's history.
According to him, Ghana is at the worst place ever under Akufo-Addo since its independence because all the economic indicators under his watch are at unprecedented levels.

Speaking on JoyNews' AM show on Tuesday, May 30, 2023, monitored by GhanaWeb, KKD added that the current government is also the worst when it comes to nepotism, favouritism and corruption.

"Right now, our hope is in the IMF, I don't know which '38-year-old boy' is going to tell us what to do… my point is who leaves his house at Ridge and goes to somebody's house at Kaneshie to say 'Charlie things are not going well in my home, come and manage my home for me for the next 3 to 5 years'.

"Who does that and still says we are brilliant? And even worse you get Gabby writing things like 'the alternative is scary'. Dude, you are the worst… this is not about NPP, NDC, CPP, or whatever. This is the worst government we have ever had in this country. The worst ever! Look at all the metrics," he said.

The veteran journalist explained that the Akufo-Addo government is the worst because of corruption, bad decisions, nepotism and poor policies.
Meanwhile, watch a snippet of GhanaWeb TV's latest program that focuses mainly on Everyday People below:





You can also watch the latest episode of People & Places on GhanaWeb TV:




IB/WA