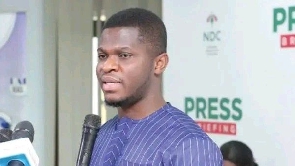 The Communications Director for Ghana's opposition party, the National Democratic Congress (NDC), Sammy Gyamfi, believes that Nana Addo Dankwa Akufo-Addo's government has always been about slogans.
He believes that the New Patriotic Party (NPP) government does not believe in putting in the work to assuage the pain of the Ghanaian people and ensure that they live better lives.

Sammy Gyamfi who was speaking on Accra-based UTV, said, "If someone tells you that they've turned the economy around, shame the person. They are lying. People who belong to the NPP have complained bitterly about the poor economy and their businesses suffering.
Kennedy Agyapong, during the party's internal elections, made it clear that the economy of Ghana was not in good shape. He mentioned that he had lost some dollars because of the bad exchange rate, so what have they turned around?

He continued, "This government has been about sloganeering instead of putting in place policies and programs to change the lives of the people. If you follow this government's slogans, you may think they are working for the people, but that is not true. Some of us who are not yet 40 years old are shocked at the kind of hardship we are facing in this country. Cheap slogans don't build countries".