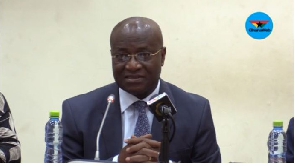 The Majority Leader and Minister for Parliamentary Affairs, Osei Kyei-Mensah-Bonsu, has refuted assertions that the Nana Addo Dankwa Akufo-Addo government has failed Ghanaians.
According to him, records show that the Nana Addo Dankwa Akufo-Addo government has performed exceedingly better than the John Dramani Mahama administration, and it has not borrowed recklessly as is asserted.

Speaking on the floor of Parliament, on Friday, Kyei-Mensah-Bonsu, added that even though Ghana is currently in a bad place there is a clear indication that things are getting better.

"Have we been reckless in borrowing and expenditure? The records do not lead to that conclusion.

"… there is empirical evidence that to show that this government has not underperformed. In sharp contrast with the immediate predecessor administration, the government has done enormously well.

"One must own up to the fact that there is some darkness now but there is light at the end of the tunnel if we hold together," he said.

The majority leader, who is also the Member of Parliament (MP) for Suame, also said that the House could have done better in their oversight responsibilities over the executive branch of government.
You can also watch this episode of People & Places here:



Watch the latest episode of The Lowdown below:



IB/OGB