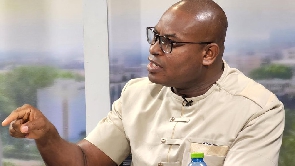 The Director of Communications for the ruling New Patriotic Party (NPP), Richard Ahiagbah, has refuted assertions that the Nana Addo Dankwa Akufo-Addo government is bloated.
According to him, this narration is being driven by members of the opposition National Democratic Congress (NDC) to make the government look bad in the eyes of Ghanaians.

Speaking on JoyNews' NewsFile programme, Richard Ahiagbah added that Akufo-Addo has reduced his government so much that for the first time in the history of Ghana, the country has no regional ministers.

"From the first term till now, you will agree with me that the size of government tremendously has been reduced.

"This is the one time in our history where we don't have deputy regional ministers, for the first time we have that, so there are significant concessions made in that direction.

"There is his disinformation by the NDC… they are just interested in creating the impression in the minds of people for them to say that the size of government should be cut," he said.
The NPP communication director also noted that the number of appointees in the country currently are needed to help the president achieve his objectives.

"We shouldn't overlook the fact that there's a mandate given the president, he needs a team to do it… if he does not deliver, he cannot come and say it was because his budget was reduced," he said.

He added that the government has also cut its expenditure to the extent that ministers who are also members of Parliament are only being paid as MPs.

You can also watch this episode of People & Places here:


Watch the latest episode of The Lowdown below:



IB/FNOQ