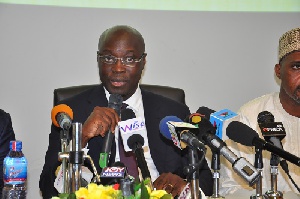 The Minority in Parliament has said the 2019 budget will turn President Nana Akufo-Addo's 'Ghana Beyond Aid' slogan into 'Ghana Beyond Hell'.
At a roundtable on the forthcoming budget, the Minority spokesperson on finance, Cassiel Ato Forson, explained: "We say Ghana beyond hell because in the year 2017, the budget was named 'asempa' budget, meaning good news, but at the end, what did we see? We saw 'asembone' budget, meaning bad news.

"In the year 2018, the budget was named 'adwuma' budget, meaning we were going to expect more employment, but what are we witnessing now? We are witnessing job losses, layoffs and no jobs.

"President Akufo-Addo announced that the 2019 budget will be full of hope. But judging from the outcome of the 2017 and 2018 budget and economic policy statements, what should we expect in the 2019 budget? Hopelessness," the MP for Ajumako-Enyan-Essiam Constituency in the Central Region, said.
The former Deputy Minister of Finance in the Mahama government also predicted that the Akufo-Addo government will bloat the debt stock by GHS16 billion.

"In the year 2019, they [Akufo-Addo government] will add about GHC16 billion to our debt. This will take our total public debt to about 186 billion by close of year 2019. The Akufo-Addo government appears to have pumped a large chunk of its money into consumption as there is virtually no capital investment to show for his level of borrowing," he said.

"The foregoing shows clearly that the president, Nana Addo Dankwa Akufo-Addo and his Vice-President misled Ghanaians with their claims on borrowing while in opposition, instead they have resorted to the very thing they condemned just two years ago. Where is the president's ability to develop Ghana without taxation and borrowing which he touted so much in opposition?"