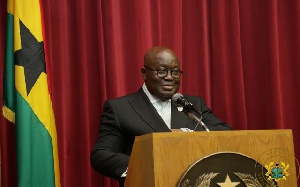 I thank the co-Chairs of the National Prayer Breakfast, Senators Christopher Coons and James Lankford, and the entire membership of the Host Committee, for the honour of this invitation, and for the opportunity to deliver these remarks at the International Luncheon of the National Prayer Breakfast, now a globally-acclaimed event in its 67th year.
It is good to see two Senators who, despite being on opposite sides of the political divide, and in spite of the news we hear coming out from the Capitol, have resolved to put aside their political differences and work to help ensure that God continues to rule not only in the affairs of the United States of America but also in the affairs of other nations of the world.

The Ghanaian people are truly appreciative and deeply humbled by your choice of their principal servant to address this important annual gathering, which groups together distinguished guests and invitees from all over the world. I recognise the significance of the moment, as being the first Ghanaian leader to speak here, and I thank you, once again, for this invitation.

I do not speak for myself alone in giving thanks to Almighty God for the men and women of this nation, who were so prominent in the 20th-century defeat of totalitarian ideas, such as Nazism, fascism, and communism, ideas that posed direct threats to freedom. As we applaud America for the sacrifices of her heroic defence of freedom in the 20th century, we also recall, in this "Year of Return", which commemorates the 400th anniversary of the arrival of the first West African slave in the Commonwealth of Virginia, her tragic role in some of the most destructive episodes of human history – the Trans-Atlantic slave trade and slavery in the Americas. We intend to use the symbolism of this "Year of Return" to bring together Africans, persons of African descent, and all well-wishers and lovers of freedom to strengthen the commitment to ensuring that they never reoccur. We should, in our prayers on this occasion, make a special intercession for God's blessings on the souls of the hapless victims, and for His forgiveness for the perpetrators of these heinous crimes.

Excellencies, ladies and gentlemen, I was born into a family of deep Presbyterian convictions. My maternal ancestry includes my great-grandparents, who were pioneer evangelists of the Presbyterian faith in Ghana's Akyem areas, from where I come. My paternal ancestry encompasses iconic 19th-century Presbyterian priests, whose evangelical ministries remain enduring legacies and inspirations for succeeding generations of Presbyterian priests. My own parents, as you can imagine, were staunch Presbyterians. I was baptised a Presbyterian, and became an Anglican, much to the vehement protests of my parents, as a result of the secondary school I attended in England. Daily Matins and Evensong, and the additional Sunday Eucharist were constant features of my four-year stay at school in Lancing. Undoubtedly, it helped build up my faith in God, and reinforced my belief in His word that: "Without Me, you can do nothing."

As a Christian, my own life's journey has been a testimony of God's love, and a vindication of the words of our Lord and Saviour Jesus Christ in the Gospel according to St. Matthew, chapter 19 verse 26, which says "with man this is impossible, but with God all things are possible". Some of you may know that I sought the highest office of the land on three occasions, being successful on the third. Between 2008 to 2016, if any of you had had the opportunity to visit Ghana, you would have certainly heard catchy phrases like "Akufo-Addo cannot be President", "God does not want Akufo-Addo to be President", "Akufo-Addo is short, and does not have the stature to be President." Perhaps, if you lost your first election by some forty thousand votes in a poll of some ten million voters, as I did in 2008, and lost your second election after a controversial decision by the Supreme Court four years later, as I did, you would be tempted to believe that these comments had some merit. However, my faith in God would not let me give up. At my third attempt, I committed the election campaign to God, and indicated to the Ghanaian people that "The Battle is the Lord's". By God's grace, I won a famous victory against an incumbent President in the 2016 election by a gap of some one million votes, the largest margin of victory for two decades.
It is this belief in God's power to transform difficult situations into beacons of hope that has animated my vision for moving Ghana to a situation beyond aid and putting the country onto the road of sustained progress and prosperity. Our march to a brighter future is underpinned by our firm attachment to a governance system that respects human rights and individual liberties, the rule of law, and the principles of democratic accountability.

In spite of our current circumstances, I believe our lot is not to be a poor nation. God has blessed our Ghana. We have some of the most dramatic, natural scenes on the planet. We have, almost, every mineral that mankind lusts after, and which is required to run a modern economy. We have an abundance of arable land, and a young, enterprising, hardworking population. The Book of Proverbs, in chapter 10 verse 22, tells us that "the blessing of the LORD makes rich, and He adds no sorrow with it." The negative characterisations of Ghana, and, indeed, most of the countries in Africa, depicted largely by stories of disease, famine, hunger and poverty, can, therefore, not be our portion. God's blessings on our land mean that we can, we should, and we must shed this cloak of poverty, and chart for ourselves a path that will lift up the masses of our people into prosperity, and enhance the quality of their lives.

Since my Government took office, some two years ago, we have, with God's support, restored discipline in the management of the economy, and have become one of the fastest-growing economies in the world. We are guaranteeing entry to education to all school-going children up to a minimum of Senior High School, and have strengthened access to healthcare for all. We are becoming increasingly self-sufficient in the production of food, and, as opposed to the difficulties of recent years, we are now exporting food to our neighbouring countries in West Africa. Ghana, today, has become the largest recipient of foreign direct investment in West Africa, with some of the world's largest automobile manufacturing companies deciding to establish assembly and manufacturing plants in Ghana. I am hopeful that, in the coming years, and to paraphrase the words of Hanani the Seer, in 2nd Chronicles chapter 16, God will continue to show Himself strong on behalf of a country whose heart is fully devoted to Him.

Before I conclude, let me express appreciation to the Churches for their role in the development of our country. In Ghana, and with 71% of the population being Christians, the Churches have rendered to the Ghanaian people invaluable assistance principally in education, health and agriculture. Since independence, God has blessed our nation by sparing us the horrors of civil war that have afflicted virtually all of our neighbours. It is in recognition of these blessings and in order to redeem a personal pledge that I made to Him prior to the 2016 election, that I have decided to build an interdenominational National Cathedral of Ghana to His glory and honour. It will serve as a fulcrum for propagating the Christian faith and unifying the Christian community.

All of us, who have taken Jesus Christ as our Lord and personal Saviour, have, also, a great deal of work to do to win the contemporary battle against the spread of religious extremism, religious intolerance and persecution, bigotry and terrorism. We have the onerous responsibility of disseminating the Word, winning over as many as possible into God's salvation, and bequeathing a safer, more secure and more prosperous world to generations yet unborn.
In the words of the 16th President of the United States, Abraham Lincoln, for many America's greatest President, and I quote, "My concern is not whether God is on our side; my greatest concern is to be on God's side, for God is always right". I want to be on God's side, I want Ghana to be on God's side, and we will be an example to the black peoples of the world of what a free, dedicated, innovative people, who believe and trust in God, can do to build a nation the equal of any, anywhere on the face of the planet.

May God continue to bless us all.

I thank you for your attention.