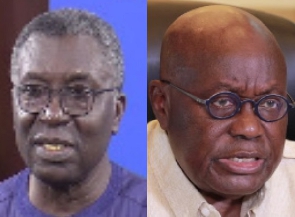 President Nana Addo Dankwa Akufo-Addo has reportedly authorised the Criminal Investigations Department (CID) of the Ghana Police Service to investigate allegations made by Prof. Kwabena Frimpong-Boateng about the involvement of some staff at the presidency in illegal small-scale mining (galamsey).
Speaking on this menace in an interview on GBC, the former Minister of Environment, Science, and Technology, Prof. Kwabena Frimpong-Boateng, averred that government officials were behind the operations of illegal miners (galamseyers) in the country.

According to the renowned surgeon, these officials buy the excavators and other equipment for these illegal miners and pump huge sums of money into the project to keep them in business.

Professor Kwabena Frimpong-Boateng's comment comes from allegations in 2020 that some 500 seized excavators from illegal miners were missing.

He described the news as false and an attempt by some persons in government to sack him as the Environment Minister at the time.

"Let me tell you that I did not take one excavator for anything; they know the truth. Now things are coming up; we know those who are behind it and the party people who are there; people in government, including Jubilee House, who are doing galamsey and so on, even now," he said.
"There was an orchestrated scheme, even within the party and government, to get me out. Why is it that when I left, now everyone is in the forest?" he added.

According to a report by the Daily Graphic, the president has now reacted to the allegation of the former minister by ordering an investigation into it.

The report indicates that the Special Investigations Unit (SIU) of the Criminal Investigations Department (CID) is in charge of the probe.

Meanwhile, catch up on the concluding part of Francis Addai-Nimoh's interview on GhanaWeb TV below:


You can also watch this episode of People & Places here:



IB/SEA