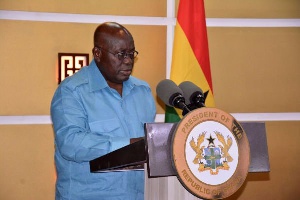 British Airways has come under fire from the new president of Ghana, Nana Addo Dankwa Akufo-Addo for the way it treats customers.
In a major embarrassment for the airline, the African country's leader criticised 'the quality of the planes and the service'.

He even accused BA of 'taking us a little for granted'. The comments follow a barrage of complaints from travellers over poor service on the airline's flights. BA has been criticised after it stopped providing free sandwiches, snacks and drinks on flights lasting less than five hours.

The policy could now be extended to long-haul flights for passengers in economy class. The airline has also come under fire over plans to cut legroom from 30 inches to 29 on some of its planes – an inch less than Ryanair.

The criticism from President Nana Addo Dankwa Akufo-Addo of Ghana is particularly embarrassing, however, as it came during a meeting with a BA executive about the airline's plans to celebrate 80 years of flying to the country.

The president, who has been in office since January, urged Paolo De Renzis, the head of Middle East, Africa and Central Asia sales at BA, to upgrade the quality of the services between Accra, the Ghanaian capital, and London.

'There are complaints about the quality of the planes on the route and the service,' said Mr Akufo-Addo.
'In some quarters, there is a feeling that you are taking us a little for granted in the way in which we are receiving your services.'

Mr Akufo-Addo also said that passengers complained that flights to and from Accra now operate out of Terminal Three at Heathrow – not Terminal Five, the flagship terminal opened in 2008.

'Terminal Three is not so convenient a place as Terminal Five,' he said. Addressing Mr Renzis, he added: 'When friends are speaking, I think we should speak frankly.

I think I am the proper person to let you know what the pre-occupations of our people are.

These are matters that will be easy for you to rectify.' However, the president also praised BA for its long-standing relationship with Ghana. 'The patronage you have tells you about the confidence the Ghanaian people have in the airline,' he said. 'I want to congratulate you very warmly. Eighty years of service is worth commemorating.' Mr Renzis told Mr Akufo-Addo: 'We have a long-standing relationship with the country.

We are strongly committed to the market, and we appreciate your feedback. We will work very hard to improve the products and services to Ghana.' BA flies once a day from London to Accra and once a day from Accra to London. The flights – on a Boeing 747 that carries up to 345 passengers – take longer than six hours. Return flights cost from £677.
Other airlines to fly from the UK to Ghana include KLM, Air France, Alitalia, Emirates and Kenya Airways.

The meeting in Ghana follows criticism from customers closer to home. British Airways came under fire earlier this month after it offered only £40 of compensation to an 87-year-old woman who sat in soaking wet clothes on a 13-hour flight from Los Angeles to London after an air hostess refused to let her go to the lavatory.

In another incident, a group of 60 children from a school in Hampshire claimed they were denied free tap water while on a three-hour flight from Naples to Gatwick. A BA spokesman said: 'Our customers in Ghana will benefit from the investments we're making in customer experience as they roll out.

'These include investments in the latest technology in the air and on the ground, catering, our premium offerings and providing value in our economy cabins.'