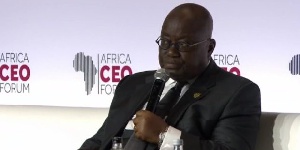 President, Nana Akufo-Addo will visit Denkyira-Boase in the Central Region to see where the late army officer, Major Maxwell Adams Mahama was lynched by residents.
"The President on 11 of this month will come to the region and he is expected to go to Denkyira-Boase to meet chiefs and opinion leaders there", Deputy Central Regional Minister, Hon. Thomas Agyei Baffour revealed.

"We have communicated the visit to the Chiefs and everyone concerned that on the 11 the President will pay working visit to them".

Major Maxwell Adam Mahama was the platoon Commander at Denkyira-Boase in the Upper Denkyira West District of the Central Region.
It is still not clear which is the true account of circumstances leading to his death. Whereas the military command and police investigators claim he was going on jogging and stopped to buy snails from the woman who saw a sidearm on him and snitched the assemblyman William Baah who then mobilized angry residents to lynch him, another account claimed he was invited to a meeting with a prior motive of killing him.

Nineteen (19 suspects including; William Baah, assemblyman who organized the angry residents; Yaw Annor, mason; Akwasi Baah, famer;Kwame Tuffuor, driver; Akwasi Asante, famer;. Joseph Appiah-Kubi, driver; Kwadwo Animah, mason;Philip Badu, prison assistant; Kofi Nyame, farmer; Michael Anim; Bernard Asamoah, driver's apprentice; Ebenezer Appiah; Charles Quainin, vulcanizer operator; Anthony Amoah, okada operator; Bismark Donkor, farmer; Kwame Agyei, farmer; Solomon Sackey, carpenter; John Bosie, driver's apprentice and Vivian Asahene, unemployed are currently facing trial for his death

They have been charged with two counts of murder contrary to section 46 of the criminal code and other offences act of 1960, Act 29 as well as conspiracy to commit crime to wit murder: contrary to section 23(1) and 46 of the criminal and other offences act 1960 (Act 29).