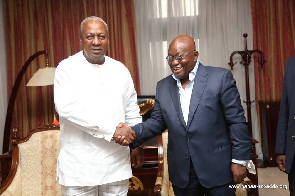 President Nana Akufo-Addo is filling the EC with NPP people because the governing party fears defeat by the NDC in the 2024 polls, former President John Mahama has said.
Addressing the Nkawkaw branch and constituency executives to wrap up his 3-day tour of the Eastern Region, Mr Mahama, who is seeking a comeback, said the NDC will train competent polling agents to police every ballot in the 2024 polls.

"You have to protect the ballot boxes during the 2024 general elections, ensure that no one puts in any foreign materials. We will train you all to police the ballot boxes."

"We want the elections to be free and fair, if it's devoid of rigging, we will definitely win by God's grace. We will not rig the elections, so we don't expect anyone to rig the elections."

He added: "The NPP government is scared of us, that's why they have appointed their own people as board members to the Electoral Commission. But we will defeat them by using Azumah Nelson's tactics," he said.
President Akufo-Addo, in line with Article 43 (1 and 2) of the 1992 Constitution, recently swore in three new members of the EC governing board on Monday, March 20.

They are Rev. Akua Ofori Boateng Salima, Ahmed Tijani, and Dr. Peter Appiahene.

The NDC and civil society groups have accused the new EC board members of being NPP members.