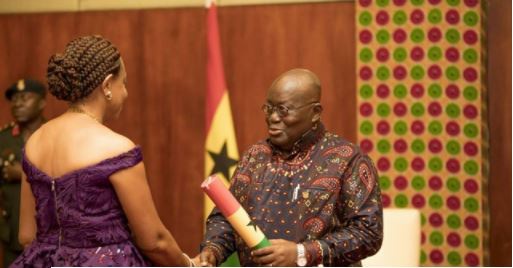 President Nana Addo Dankwa Akufo-Addo on Wednesday, September 13, 2017, presented credentials to 3 Ambassadors and a High Commissioner to safeguard and promote the image and interests of Ghana at their respective postings.
According to President Akufo-Addo, the four persons have been carefully chosen to become our High Commissioner and Ambassadors, adding that "they are eminently fit to represent Ghana in their respective places of accreditation, which have expressed satisfaction at their appointments."

"I refer to Mr. Edwin Nii Adjei, who is going to Canberra as our High Commissioner to the Commonwealth of Australia; Nana Kwesi Arhin, who is going to Algiers as our Ambassador to the People's Democratic Republic of Algeria; and Mr. Ramses Joseph Cleland, who heads to Bern as our Ambassador to the Swiss Confederation," he said.

The fourth, the President added, is "Oheneba Dr. Akyaa Opoku Ware, a well-known medical practitioner, and, as her name connotes, a scion of the great Ashanti dynasty, will be off to the historic city of Moscow as our Ambassador to the Russian Federation."

In his remarks, President Akufo-Addo reminded the envoys of the onerous responsibility of preserving and promoting the image of a country whose reputation today amongst the comity of nations is high.

"You represent a country that, as a result of the commendable conduct of the Ghanaian people, is regarded as one of the most stable on the continent, a beacon of democracy, which is governed by the rule of law and respect for individual liberties, human rights and the principles of democratic accountability.

You are the most visible symbol of our country out there, and in all your actions you must guard jealously our country's image. I am confident this is a charge you will uphold," he added.
>

Describing them as the "chief promoters of Ghana's commercial interests", President Akufo-Addo noted that they have the responsibility to drive private sector investment into Ghana.

"Remember vividly the slogans of our flagship programmes, 1-District-1-Factory; 1-Village-1-Dam; Planting for Food and Jobs. They are descriptions of our commitment to the rapid development and transformation of the nation's industrial and agricultural sectors. We are determined to create the appropriate macroeconomic environment which will attract domestic and foreign investment into these, the real sectors of our economy. You have to help in that exercise," he admonished.

The President further urged the envoys to strive to develop cordial working relations with the professional Foreign Service officers they will find at their duty posts, stressing that they have invaluable experience and knowledge of the terrain, which should help them work effectively.

"You will need their assistance, and they will need your guidance and leadership. Mutual respect is the key to harmonious working relations. Again, your rapport with the Ghanaian communities in your respective countries will be vital to your prospects of success. They will be counting and looking up to you to champion not only our nation's interests, but theirs as well. Do your best not to disappoint them," the President added.

Whilst working to strengthen the ties of co-operation that exist, as well exploring other areas of effective co-operation, President Akufo-Addo urged them to recall at all times the objective of government – "to build a Ghana Beyond Aid, a Ghana which has an honest system of governance free of corruption, and which is self-reliant and exploiting its own resources with hard work, enterprise and creativity, to build the free, prosperous Ghana of the dreams of the founding fathers of our nation."