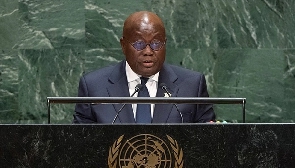 President Nana Addo Dankwa Akufo-Addo is scheduled to deliver his seventh straight address at the United Nations General Assembly (UNGA) in New York later today.
Presidents and other heads of government are in New York for the 78th Session of the UNGA, during which time they speak to local, subregional and global issues.

Akufo-Addo according to GhanaWeb checks will be the 8th president today to deliver his address, after among others African counterparts like Seychelles, Rwanda, Namibian presidents.

The theme of the 78th session is, "Rebuilding trust and reigniting global solidarity: Accelerating action on the 2030 Agenda and its Sustainable Development Goals towards peace, prosperity, progress and sustainability for all".

Last year, president Akufo-Addo in his speech highlighted among others the impact of the Russian-Ukraine war on African economies as well as the terrorism scourge that West Africa was suffering.

This year, it is widely projected that the president will touch on the ever-spreading coup contagion in Africa, the continued impact of the downturn of global economies on Africa and at the local level, measures government is putting in place to steady the economic ship.

Workings of the General Assembly
The UN General Assembly (UNGA) is the main policy-making organ of the Organization. Comprising all Member States, it provides a unique forum for multilateral discussion of the full spectrum of international issues covered by the Charter of the United Nations. Each of the 193 Member States of the United Nations has an equal vote.

The UNGA also makes key decisions for the UN, including:

a. appointing the Secretary-General on the recommendation of the Security Council

b. electing the non-permanent members of the Security Council

approving the UN budget

c. The Assembly meets in regular sessions from September to December each year, and thereafter as required. It discusses specific issues through dedicated agenda items or sub-items, which lead to the adoption of resolutions.