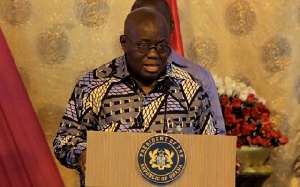 Mon, 17 Apr 2017 Source: Kasapa FM
President Nana Akufo Addo will on Tuesday, April 18, hold discussions with former Presidents of Ghana at the Flagstaff House.
The event will afford the President the opportunity of tapping into the rich experience of the former leaders including ex Presidents J.J Rawlings, J. A Kufour and John Mahama.

The leaders are expected to hold frank talks with the President, one that will advance the course of the nation. This will be the first time the first gentleman of the land is meeting with his predecessor in such planned event.
President Akufo Addo has already stated that he's in a hurry to develope Ghana and enhance the living conditions of the citizens and his handlers say he'll stop at nothing at realizing his objectives.
Source: Kasapa FM