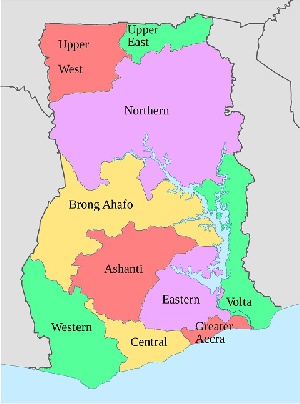 President Nana Akufo-Addo will next week establish a commission to among other things, examine the petitions on the creation of new regions and make recommendations that will set the stage for the finalization of the process.
The Council of State in August this year okayed the decision to create six more regions as proposed by the government, paving the way for the establishment of a Commission of Enquiry to also take up the issue by examining the petitions on the matter.

The Commission will be expected to tour the three regions – Brong Ahafo, Northern, Western and the Volta – out of which the new regions would be created, to examine which areas to be carved out and make recommendations for action to be taken by the President.

At the commencement of his three-day tour of the Northern Region Friday, President Akufo-Addo said: "Next week I am going to establish a Commission of Enquiry to examine the petitions for the creation of the regions." "The Constitution states that once the Council of State has given a positive response to the President, the President would have to establish a Commission of Enquiry to go into the areas which have requested the creation to see whether, indeed, there is a substantial demand," he added.

Addressing the overlord of Mamprugu, the Nayiri, Naa Bohogu Abdulai Mahami Sheriga during a courtesy call, the President urged the chief and his people to put forward and justify the need for the creation of addition region from the Northern Region.

"When the Commission of Enquiry comes into your areas, it is up to you to make it clear to the Commissioners that all of you want a new region," the President advised.
Nana Akufo-Addo said if the Commission of Enquiry after examining the areas, decide that there is a substantial demand for the creation of the six regions, the Commissioners will make recommendations him.

"If the President receives the recommendations and they are positive, he will send the matter to the Electoral Commission to organise a referendum in the areas of the demand. It will require that 50% of all those registered in the area of the demand come out to vote, and, after that, 80% of those who come out to vote must vote 'Yes' for the new region," he said.

"This is the first time in the life of the 4th Republic that the procedure has been initiated. New regions creation rest with you", he added.

"If you are determined to have the new region, it is in your hands. The way you respond to the Commission of Enquiry, and the way you vote, that is what will decide if you will have a new region," President Akufo-Addo said.

He assured the Nayiri and the people of Mamprugu that "I am in full support of your demands. I believe that the demand you are making for a new region is a good demand and should be supported. But they say 'God helps those who help themselves', so it is in your hands. If you want it you can have it."