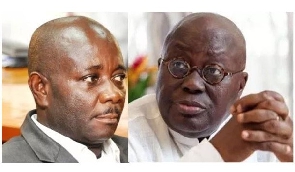 The founder and leader of the United Front Party (UFP), Akwasi Addae Odike, has criticized the Board of Trustees of the National Cathedral for what he claims is their willingness to allow President Nana Addo Dankwa Akufo-Addo to trick them into supporting a fraudulent project.
He contends that the project is a personal commitment made by the president and shouldn't be a burden on the state, and as a result, if the board ever had integrity and conscience, they should have resigned when the president began taking money from the state coffers to fund the project.

In an interview with Happy FM, the politician cum businessman asserted that the accusations levelled against some board of trustees by the Member of Parliament for North Tongu Constituency demonstrates the level of corruption and dishonesty they have engaged in, necessitating their resignation.

"The whole process was formulated on the premises of fraud. Nobody knows Jesus Christ, it is just a religion that we came to meet and worship.

"Akufo Addo said he has a personal pledge with God. He told the entire nation that it was his private project to reward God.

"He then formed a board of trustees who also came to tell us that the projects won't be funded by the state. Then Akufo Addo came again and said that the building will now cost $350 million so, unless Ghanaians come and support it, now he has turned the whole cathedral into a state property.
"That was the day that all the board of trustees should have resigned if they had conscience and integrity…because same as Akufo-Addo said some time ago that, 'I have been misled'.

"So, should they? They should've also said that they have been misled…because they took the position because Akufo-Addo said it was his personal project, but if it's now national, we don't know what to tell Ghanaians so we're sorry... the pastors that are leading in discussions with the construction of the National Cathedral have failed us. Akufo-Addo has lied and they've also pledged to support the lies," he said.

Meanwhile, The Member of Parliament for North Tongu, Samuel Okudzeto Ablakwa, has accused Reverend Kusi Boateng, secretary and board of trustee member of engaging in a conflict of interest situation and also using double identities.

He revealed in a Facebook post that a whooping GH¢2.6million was transferred from the National Cathedral Secretariat to JNS Talent Centre Limited, a company owned by Rev. Kusi Boateng under his second name, Kwabena Adu Gyamfi.

He also alleged that the religious leader has been issued with a diplomatic passport which he finds very disturbing.
"I will want the Foreign Affairs Ministry to justify why Rev. Victor Kusi-Boateng qualified for a diplomatic passport to begin with. Otherwise, everybody will be eligible to hold a diplomatic passport in this country," he said in an interview on Okay FM's 'Ade Akye Abia' programme..

"On 25th November 2021 the Government of Ghana through the Ministry of Foreign Affairs and Regional Integration granted Rev. Victor Kusi Boateng a diplomatic passport. The diplomatic passport which expires on 24th November 2026 rather carries the name Kwabena Adu Gyamfi and not Rev. Victor Kusi Boateng".

AM/SARA