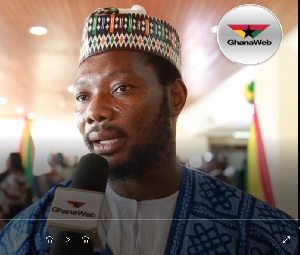 The General Secretary of the PNC, Mr Bernard Mornah has said that the intention of president Akufo-Addo to designate 4th August as Founders Day is a deliberate attempt to dilute the contributions of Dr. Kwame Nkrumah towards the country's independence.
President Akufo-Addo has decided to propose a legislation to Parliament to designate 4th August as FOUNDERS DAY, and 21st September as Kwame Nkrumah Memorial Day, both of which will be observed as public holidays.

The President has also issued an Executive Instrument to commemorate this year's celebration of Kwame Nkrumah Memorial Day as a public holiday.

But Mr Mornah believes the move is part of attempts to belittle the efforts of Dr Nkrumah in attaining independence for Ghana, adding that, the fact that some people started a movement to achieve the same purpose does not make them founders of the nation.

"Why are they talking about the UGCC when they did not attain independence for us?, Ghana that we are talking about was attained by the singular contribution and instrumentality of Dr. Kwame Nkrumah," he stated.

According to him, at any point in the history of Ghana, one person stands out whiles others follow because, it is the contribution of that person that everybody recognizes and not necessarily to discredit the efforts of the rest.
Mr Mornah noted that many Ghanaians contributed in diverse ways to Ghana's independence but could not be included in our history as founders because one man always stands tall whiles others follow.

He had earlier warned that the NPP might call off this year's founders day celebration after listening to what he described as a misrepresentation of the country's history by President Akufo-Addo on the 6th of March and challenged that the celebrations were going to be extraordinary this year notwithstanding attempts to wreck it.

He however charged the New Patriotic party to be grateful to Dr. Nkrumah for passing the avoidance of discrimination act which ensured the formation of the United Party (UP) from which the party derives it's tradition.

Mr Mornah claims the NPP have even ignored the immense contributions of George Paa Grant who was the financier of the United Gold Coast Convention anytime they mentioned the 'Big Six'.

"I keep insisting that the 'Big Six is a creation of the media and that there was nothing like the Big six because they were just some ordinary men who accompanied Dr. Nkrumah on the platform to announce the independence of Ghana," he alleged.