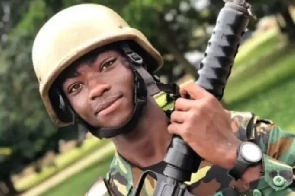 Convener of the Fix The Country movement, Oliver Barker-Vormawor has expressed disappointment at the failure of president Nana Addo Dankwa Akufo-Addo to speak to the recent killing of a soldier and subsequent military swoop in Ashaiman in Accra.
He is particularly concerned that there is a national conversation around the developments yet Akufo-Addo failed even during the March 8 State of the Nation Address (SoNA) to speak to the matter.

Speaking on the Ghana Tonight show on TV3 (March 8, 2023), the activist cum lawyer submitted: "A young man has lost his life, a military official has lost his life in circumstances that does not befit the kind of national image that we have of ourselves.

"I think it is important for a president who has sown no hesitation in tweeting about deaths of people abroad, George Floyd being an example, would keep mum and shut up about the death of a military officer. I think it is very unfortunate," he added.

He disclosed that at the time of the interview, he was reliably informed that the president hadn't reached out to the family, something he said "showed lack of leadership."

Akufo-Addo statement on George Floyd murder
Akufo-Addo in a June 1, 2020 post became one of the few African leaders to weigh in on the Black Live Matter wave following the gruesome murder of a Black man George Floyd.

His post read: "Black people, the world over, are shocked and distraught by the killing of an unarmed black man, George Floyd, by a white police officer in the United States of America. It carried with it an all too painful familiarity, and an ugly reminder.

"It cannot be right that, in the 21ST century, the United States, this great bastion of democracy, continues to grapple with the system of racism.

"On behalf of the people of Ghana, I express my deep condolence to the family and loved ones of the late George Floyd.

"We stand with our kith and kin in this difficult and trying times, and we hope that tragic death of George Floyd will inspire a lasting change in how Americans confront head on the problem of hate and racism," the post concluded.


The March 7 military swoop

Dozens of military officers stormed Ashaiman in the operation that saw some soldiers entering the town in trucks, with an armoured car plus a helicopter hovering over the town.

The exercise is said to be in response to the gruesome murder of a young soldier, Trooper Sherrif Imoro, by some unidentified persons on Saturday, March 4, 2023.

Videos of the invasion shared across social media show various forms of assault being meted on residents by the rampaging officers who subjected some of the residents to severe beatings.
In a statement released in the early hours of March 8, the Ghana Armed Forces admitted authorizing the swoop which led to the arrest of 184 persons, as well as the seizure of suspected illegal drugs.

In the said statement, they also acknowledged excesses may have resulted in the swoop but failed to apologize for or commit to conduct a probe on same.

An initial 150 suspects were released on March 8 whiles Barker-Vormawor reported on March 9 that the remaining 34 have also been freed without charge.

You can also watch the latest episode of the Lowdown on GhanaWeb TV here:


You can also watch this episode of People & Places on GhanaWeb TV here:



SARA