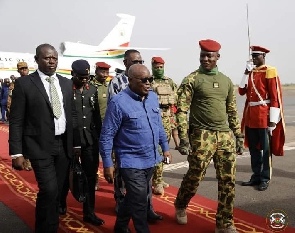 President Nana Addo Dankwa Akufo-Addo was in Burkina Faso on an official visit this week, meeting with military leader Ibrahim Traore.
The May 10, 2023 visit was among others to bolster ties between Ghana and her northern neighbour at a time the two nations are concerned about growing terrorist violence.

Footage shared by media outlets showed Akufo-Addo's arrival aboard Ghana's presidential jet as he is received by Traore at the airport.

They proceed to the VIP lounge of the airport where their meeting is held before Akufo-Addo is seen off by his host.

GhanaWeb sighted Albert Kan-Dapaah, National Security Minister and Nana Asante Bediatuo, secretary to the president in the meetings along with other government officials.

The meeting came six months after president Akufo-Addo told the US government during a visit to Washington that the Burkinabe government had contracted Russian mercenary group Wagner to help its fight against terrorism.
He said the mercenaries had been given a mine as payment for their services. The Burkinabe government denied the allegation and summoned the Ghana ambassador to answer questions.

Kan-Dapaah subsequently led a government delegation to Ouagadougou to clarify issues relative to Akufo-Addo's comments which were classed as undiplomatic.

Watch a video of Akufo-Addo's visit below:



SARA